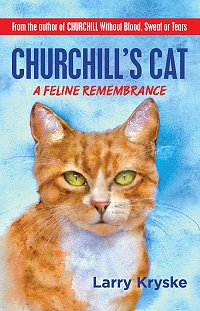 Churchill's Cat: A Feline Remembrance
Larry Kryske
(Homeport Publishing, 2019;
ISBN 978 0 578 40732 6)
Winston Churchill was fond of animals and had many cats and other pets during his long life. For his 88th birthday in 1962 his long-time friend and former private secretary 'Jock' Colville gave him a ginger kitten, which Churchill named Jock in honour of his friend, and it became his last pet and a valued companion during his final years. The book is written as though the cat himself is writing it, which makes for a different and entertaining slant on things. Jock relates his daily life in Winston's London home, as well as journeys to and from the country home at Chartwell in Kent — a place Jock obviously enjoyed. He writes of his relationship with Winston's wife Clementine and with other humans in the household, and of the visitors he meets, such as Field Marshal Viscount Bernard Montgomery. But most of all the book relates the strong bond between Winston and Jock, deepening as the great man's health starts to decline and eventually fail. The cat was with him on his bed when Winston died in late January 1965.
As far as I can tell this is an accurate recounting of Churchill's final years, and it's a warm and at times moving account that I strongly recommend. If I have one small criticism, it's that — although it's written by an American — I think the publishers should have taken the trouble to amend the American spelling to British; it is, after all, about one of the greatest Englishmen who ever lived.
As for Jock, he retired to Chartwell, where he died in 1974 aged 12. He became the first in a 'dynasty' of ginger-and-white Jocks who have resided there ever since — see our page about the Jocks of Chartwell.
Cats in Medieval Manuscripts
Kathleen Walker-Meikle
(British Library, 2019;
ISBN 978 0 7123 5293 2)
Paraphrasing the frontispiece of this interesting if slightly 'off the wall' book: 'Cats were illustrated in medieval manuscripts throughout the Middle Ages, often in exquisite detail and frequently accompanied by their usual prey of mice. Medieval cats could be viewed as treasured pets, as fearsome hunters, as canny characters in fables, as associates of the Devil, or even as magical creatures. Featuring an array of illustrations from the British Library's medieval collections, the book includes anecdotes about cats — both real and imaginary — to provide a fascinating picture of the life of the cat and its relationship with humans in the medieval world.'
Profusely illustrated in colour, and with detailed descriptions of the history and origin of the pictures, this little volume is indeed an interesting insight into a period when cats were mostly not pets enjoying the pampered life that many do today.