Museum Cats 12
At Sir Winston Churchill's former home,
Jock of Chartwell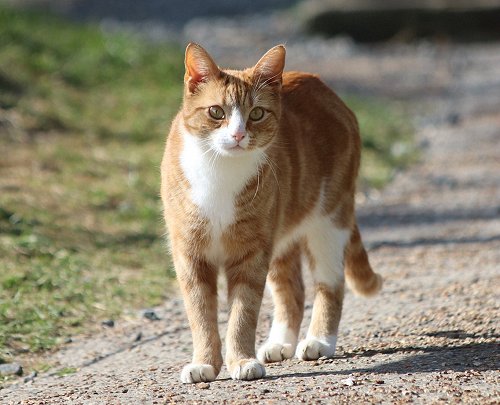 Westerham, Kent, England
Click thumbnails for enlargements (JavaScript should be enabled)

Sir Winston Churchill (1874-1965) was very fond of animals, and cats in particular; he had a number during his lifetime and some of them are detailed elsewhere. Late in his life, on his 88th birthday, he was presented with a marmalade-coloured cat with white feet and chest, which he named Jock after Sir John 'Jock' Colville, the private secretary who had given it to him. Churchill and Jock were together for only two years before the great man died, but he had become very attached to the cat, which was sitting on his bed with him when he passed away at his London home at Hyde Park Gate.

Jock went to live at Chartwell, near Westerham in Kent, south-east England, which had been the much loved Churchill family home and the place from which Sir Winston drew inspiration from 1924 until the end of his life. The property is now owned by the National Trust; the rooms remain much as they were when Winston lived here, with pictures, books and personal mementoes evoking the career and wide-ranging interests of a great statesman, writer, painter and family man. The hillside gardens reflect Churchill's love of the landscape and nature. They include the lakes he created, Lady Churchill's rose garden, the kitchen garden and the Marycot, a playhouse created especially for the youngest Churchill daughter.
It's not clear whether it was a wish expressed by Churchill in his will, or a request made by his family following his death, but a request was made that there should always be a 'marmalade' cat with four white paws and a white bib 'in comfortable residence' at Chartwell. That tradition has been maintained. The original Jock lived until 1974 and is buried in the pet cemetery in the grounds, along with many other family pets.
Above L-R: The first Jock and Jocks II, III and IV (no enlargements)
Jock II spent his days mostly sleeping in the house, but went out prowling the grounds at night. Jock III was a beautiful cat, but a bit temperamental and could scratch people: nevertheless he seemed to like visitors, and on sunny days enjoyed sleeping among the flowerbeds. By 2008 Jock IV was cat-in-residence, but he must have died a couple of years later, as in November 2010 Jock V was installed.


He was a mischievous kitten from a branch of Cats Protection; he lived with a staff member, Chartwell's house and collections manager, in the top apartment of the house and spent his time 'exploring and being pampered'. He apparently loved water and lost no opportunity to jump into any available sink! The Chartwell cats have all had a 'green' cat-flap, approved by the Historic Buildings Inspector.
For several years the Chartwell Jock had a companion, a handsome all-black named Frankie (Franklin, below right) who lived with the house steward and was often to be found greeting visitors. He had a Facebook profile where he could be 'friended', but not a public page (and not available in early 2023). In early 2022 an enquiry revealed that Frankie was no longer at Chartwell, and was enjoying retirement at the home of a staff member.
Above: Jock V, resident at Chartwell 2010-2013, and (on the right) Franklin

During the latter part of 2013 Jock V seemed to 'disappear off the radar'; visitors to Chartwell remarked on his absence and there was no news of him. In March 2014 it was announced that Jock VI had been taken on, and it transpired that former resident Jock V had formed such a strong bond with the human he lived with at the house that when she left it was felt best that he went with her. He is now happily retired and living in the country in Scotland.
The new Jock — previously called Malley — did not have the best of starts in life and when he came to Chartwell's attention was at the Croydon Animal Samaritans (CAS) rescue shelter. At Chartwell he was cared for by the new house and collections manager, Katherine Barnett, who described him as a 'very caring, loving cat' and thought that visitors would get lots of enjoyment from seeing him around the property. Seven months old when he began his new career, he liked to take afternoon naps, was partial to tuna and found Chartwell's Persian rugs good for lounging on; he also liked human company and didn't enjoy being left alone for long. Apparently he also disliked opera music!
Since early 2011 the Jock-in-residence has maintained an active Facebook page where news and photos from Chartwell are shared. Young Jock VI, only very shortly after his debut in March, was already referring to longer-established feline Frankie as his 'assistant' — the latter's views on the matter were not reported.
Unfortunately Jock VI had had problems with his eyes ever since he was a kitten. He had regular checks, and tests in 2018 revealed that he had retinal degeneration. Over time it resulted in increasing blindness, but in spite of that Jock was a very happy and contented cat. His condition, which is similar to tunnel vision, left him easily startled if approached from the side or behind. He adapted well, but people were asked to play their part by being mindful that he could see them only when they were directly in front of him. He was still the same happy, cheeky cat that he always was, and he loved his life at Chartwell.
In mid-2020, however, it was announced that Jock VI had gone almost completely blind and was finding life difficult at Chartwell; he therefore retired to live a quieter and more peaceful life with a staff member and a garden of his own.


Enter Jock VII. In May 2020 the six-month-old youngster made his entrance; he was one of a large group of kittens rescued, weak and undernourished, from squalid conditions by the RSPCA. Restored to full health, he has a mischievous character, playful and full of fun. He's put his difficult start — and his former name of 'Sunshine' — behind him and is enjoying life at Chartwell.
Further reading
---