Feline Folios is compiled/written by
Patrick Roberts
Copyright © 2003-17 Purr 'n' Fur UK

Certain features on these pages use JavaScript

---
[ Home | Famous | Featuring | Fans | Fabled | Philately | Fun | Folios | Fragments | Flotsam ]

Feline Folios 8
A look at some more of the books we've enjoyed

Cats on the Job
Lisa Rogak
(Thomas Dunne Books / St Martin's Press, New York, 2015;
ISBN 978 1 250 07237 5)

A more recent 'working cats' book than Cats at Work (below) means that in 2017 probably most of the felines featured will still be alive and carrying out their duties. The 50-odd individuals aren't restricted to any one country and a large range of work is covered, from library, theatre and bookstore cats to a diabetic-alert cat, a news-anchor cat and even a feline minister (yes, really!). Each is accompanied by photos and an informal and chatty text. You might be surprised by some of the things cats can do!

Felix the Railway Cat
Kate Moore
(Michael Joseph / Penguin, 2017;
ISBN 978 0 718 18543 5)

Felix, so named because as a kitten she was thought to be a male, has become probably as well-known as was Tama the Japanese station cat; her Facebook page alone has well over 100,000 followers worldwide, and people make a point of going to Huddersfield station in the hope of seeing her. This entertaining book follows her arrival as a timid youngster in 2011, at just eight weeks old, to her position as Senior Pest Controller, undisputed queen of all she surveys and proud owner of a hi-vis vest and her own dedicated cat flap! Kate Moore has done her research well and produced a fitting tribute to this diva of British railway cats.

Cats at Work
Rhonda Gray and Stephen T Robinson; photos Guy Powers
(Abbeville Press, New York, 1991;
ISBN 1 55859 153 2)

A nice little picture book with an informative introduction by well-known cat expert Roger Caras, this features cats in all manner of working situations in America, from bookstores and antique shops to music studios, restaurants and fire stations. Along with its photo each cat is named, its age, gender and breed are given (most are American shorthairs, i.e. moggies) and there is a brief comment from its human. Well worth a browse.

Larry the Chief Mouser and other official cats
Christopher Day
(Pitkin Publishing / The History Press, Stroud, UK, 2016;
ISBN 978 1 84165 761 5)

This slim booklet, just 26 pages, is nevertheless beautifully produced and, with the aid of the National Archives, packs a great deal of information into those pages, along with some excellent photos. It ranges from Dick Whittington's time right up to the latest (mid-2016) arrivals of Gladstone and Palmerston, with stops along the way to include the Home Office cats and some Royal Navy cats, including Simon of the Amethyst. It was published just too early for the new Cabinet Office cats, Eve and Ossie, to be added, as they arrived in December 2016. Highly recommended.

Browse titles from the index page
There's also a feature on the series of children's books by Kathleen Hale,
Orlando, the Marmalade Cat
If you would like to comment or suggest any further titles, please contact me,
or drop in at our Facebook page

Return to:
Feline Folios index
Other sections:
Famous Felines
Featuring Felines
Fabled Felines
Feline Fun
Fans of Felines
Feline Philately
Feline Fragments
Feline Flotsam
or visit the Purr 'n' Fur home page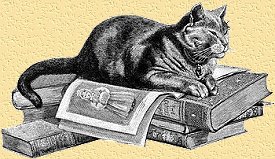 There is none better to be our featured feline at the head of the page than Dewey, beloved and famous library cat of Spencer in Iowa
until his passing at the age of 19 in 2006. Read his story here.
---
Copyright © Patrick Roberts & Purr 'n' Fur UK 2003-17
All rights reserved
Images and content (whether original or used at Purr 'n' Fur with permission) may NOT be reproduced
at another website or otherwise copied or used without prior permission.
Direct linking (hotlinking) to ANY images on this site is strictly forbidden.
If you want something, !
Page created August 2017 with later additions