From the Archive
August 2003 Review
Left-click thumbnails for an enlargement (JavaScript should be enabled)
There have not been very many new cat stamps since April, so there will be room to include a few older Christmas ones at the end of the article.

Following its splendid cats set of October 2002, Jersey came up with a set of five pets stamps and a miniature sheet, marking the centenary of the Jersey Animal Shelter in St Helier. It was devoted, quite reasonably, to pets other than felines, with a rabbit, a puppy, hamster, guinea pig, and canary with budgie. However, a kitten did sneak on to the MS (pictured), together with another rabbit and a Border collie pup.
There was a new sheetlet of three stamps from the West African country of Guinea in 2002, showing cats and also Scouts 'talking' to them. Each stamp is featured on a separate MS (miniature sheet) as well, and the whole lot is available (expensively!) in imperforate versions.

Also from last year a set of cats and dogs from North Korea has eventually arrived here (left); I have seen them only as a booklet. There are three different cat stamps — one being duplicated — and one dog, with another on an accompanying MS.
Remaining in the Far East, each year Japan issues a set of stamps for Letterwriting Day. This year's offering has four cartoon animals: a bear and a crocodile playing musical instruments, and a monkey and a cat (right) each waving a letter.

Singapore introduced a new set of ten Greetings stamps, in both traditional and self-adhesive forms. The generic title is 'Joy and Caring', and under 'Joy' comes the groovy cat with mauve sunglasses (left).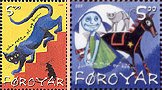 Half the world away, between Iceland and the UK, the Faroe Islands produced in April a very colourful sheetlet of ten stamps showing the stories of children's songs, a theme I don't believe has been used before. Not being familiar with Faroese, I cannot translate the titles; but one stamp shows a grey cat descending some stairs in search of a mouse hiding below them (near right). There is a less obvious, grey (toy?) cat on a second stamp (far right).
To conclude, and because Christmas will not be so far away as you read this, here are some depictions of Christmas cats.