From the Archive
April 2003 Review
Left-click thumbnails for an enlargement (JavaScript should be enabled)
After a rather meagre selection last time, there have been a fair number of new, or newly discovered, cat stamps in recent months.

Starting with the older ones: I'm indebted to reader and sometime correspondent, Barbara, for finding a small tabby on a Fiji Christmas stamp from 2001 that the rest of us in the cat-stamp fraternity apparently missed. It's a very pleasant set, with depictions of the event that are unusual and refreshing to Western eyes. The cat is on the 34c. value.
During 2002, Australia issued a set of six entitled 'The Magic Rainforest'. This is a 'fun' group showing various fantasy figures; one being a wizard with an animal at his feet. These stamps have appeared as normal adhesives, as self-adhesives, and as a miniature sheet (MS) of the same designs. I thought at first the animal was a cat; but upon scanning at larger size, I'm not so sure. It might be one of those small Australian mouse-like mammals — opinions welcome please.
Addendum, 2006: many thanks to Jill Crowther in Australia for identifying the creature as a brush-tailed possum.
Also last year, the West Indian island of Dominica produced three sheetlets of six stamps, and three MSs, of Japanese paintings. On the sheet called 'Feminine Beauty in Japanese Art' is a stamp entitled 'Woman and a Cat'. The cat isn't too easy to distinguish, but it is there.

Further 2002 issues that have filtered through include a single stamp from Mexico in May, to mark the United Nations General Assembly's Special Session on the subject of children. A small child shares a very large chair with a striped cat.

And from the Ukraine in July there was a strip of three with cartoon animal figures, one of which is 'Mr Cat' sitting in a field (right), wearing his hat and with what looks like a bowl of porridge in front of him.
A fine set from Malaysia is called The Tame and the Wild, an idea that has rarely been used before. Four stamps (two pairs) show a cockatoo and a very fierce-looking Malaysian Fish Owl, and then a savage Leopard Cat and young are paired with a rather smug-looking ginger domestic mother with her kittens (left). The sheet margin shows more cats and kittens and there are two accompanying MSs showing rabbits and fish.

Remaining in the Far East, there are two sheetlets, each of five, self-adhesive stamps, issued by Japan. These are Greetings stamps, mostly showing animals and flowers and all with the usual face value of 80 yen. Two of them have Japanese-style cats: on one a white cat is waving a paw in a good-luck gesture (right), and on the other a 'cat couple' are driving in a little red car.
Moving on now to the current year, in late January Ireland released some stamps combining Valentine's Day with the Chinese New Year of the Ram (or goat). Five delightful, self-adhesive stamps of baby animals, including kittens (left), were accompanied by separate small labels. Three of the stamps, including the kittens, came also on an MS with some Chinese inscriptions and a splendid goat in the margin. These are normal adhesive stamps.

In February, Britain issued a set of six, first-class 'Occasions' stamps, incorporating boxes to be ticked against comments such as Yes/No/Maybe; Ooops!/Sorry/Will try harder; and the like. Complete sheets of 20 stamps have each stamp attached to a different label and one of the labels is a kitten (right). I don't think you can acquire this without buying the whole sheet.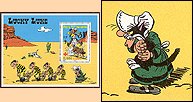 Following Gaston Lagaffe in 2001, and to celebrate the Day of the Stamp (why doesn't Britain have one of these?), France now gives us cartoon character 'Lucky Luke', riding his bronco on a single stamp released in mid-March. A different design, with a Red Cross supplement, is on the accompanying MS and in the margin, for some reason, is a group of convicts crossing a desert. Behind them is an old woman carrying rather a cross-looking cat (understandably cross in the circumstances, I should think!). I'm unfamiliar with Lucky Luke and so can't explain what is going on here. By the way, my thanks to French resident, Zan Radford, who — following my request in the last article — told me that even the French were a mite puzzled by the cat on the Georges Perec stamp!

Also in mid-March Åland issued the two cat stamps mentioned before. People all over the islands were invited to send in photos of their pets for the 'Kitty Aland' competition. Ten finalists were chosen, and then from these came the two that were to be honoured by appearing on the two stamps pictured. The overall winner, on the first-class stamp, is Randi, shown sitting 'on his favourite cliff' with a land and seascape behind. The second winner is Tovis, a charming long-haired kitten. As with the Pitcairn Islands issue last year, I think it's nice when real cats are shown, as it brings the cats to life a little.
Coming right up to date as I write, in mid-April the Faroe Islands produced a set of stamps depicting children's songs, and one of these features a cat prominently. I haven't a copy to hand yet, but perhaps can picture it next time (see August 2003 review).
The Universal Postal Union, which oversees postal matters worldwide and to which most countries belong, is increasingly concerned about the number of illegal and bogus 'stamps' that are appearing, bearing the names of (usually) third-world countries and having no postal legitimacy or validity whatsoever. They are produced in the West, purely for sale to collectors who may think they are buying genuine stamps from the countries concerned. It is far from the first time in history that similar things have happened, so I won't rush to judgement: and indeed, certain 19th century forgeries and other 'cinderella' items are now much sought after — so who knows how these items will be viewed in the future?
There are a fair number that include cats and other popular thematic subjects, and I confess that my collection does include some. However, people should be aware that they are buying just pretty labels, not stamps; and as long as they're happy with that, that's fine. I probably won't be featuring them much in future reviews. Suffice it this time to say that a number of items have been produced recently that supposedly originate from Benin, Somalia, Guinea and other African countries — and Afghanistan, which hasn't printed any real stamps for quite a while. The prices seem to be becoming higher and higher, and you may feel you do not wish to line the pockets of the merchants who are producing them and causing the problems.
---