The Quest for Simon
This article is about my research into the story of Simon, of HMS Amethyst, who was awarded the Dickin Medal for
gallantry under enemy fire. While it contains further information, photos and associated links,
you need to read Simon's main story for the account of the Yangtze Incident itself and
how Simon came to receive his 'Animal VC'.
Two further pages connected with Simon can also be accessed.
Left-click thumbnails for enlargements (JavaScript should be enabled),
but please allow all images to load before doing so, or some may not display
(if this happens, use Refresh from your toolbar to reload the page)
I cannot remember when I first heard of Simon, the ship's cat of HMS Amethyst — but I knew little other than that he had been awarded the Dickin Medal for gallantry (often referred to as the 'Animals' VC'), and that he was buried in the PDSA animal cemetery in Ilford, Essex.
The Dickin Medal
I began to extend my knowledge in 2002 following an article in my local newspaper about a dog from the area that had also gained the medal. Subsequently I came into contact with a gentleman who had known the dog in question, and who in fact had been the person in charge of receiving war dogs back into Britain after WW2 and reintegrating them into civilian life. However, although interesting, this did not advance my knowledge about Simon, so I turned next to the internet.


Entering 'Dickin Medal' on the search engines gave me plenty of information about it and about the PDSA, the organisation that awarded it and which had itself been founded by Maria Dickin — hence the medal's title. I learned that the medal had been introduced in 1943, and I found out to which animals and birds it had been given; also that the 1949 award to Simon was the last until a further, posthumous award had been made in 2000 to a wartime dog from 1942. I still wasn't clear if that marked the end of the story, so to speak, or whether it remained possible for an animal to win the medal; so I wrote to the PDSA — which coincidentally, I found, has its headquarters in Shropshire, at Telford, quite near where I live.
Ship's Cats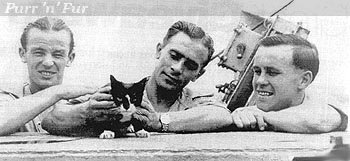 Searching for 'ship's cats' on the internet produced a quantity of interesting material. In particular it gave details of a book entitled Ship's Cats in War and Peace, published by Nauticalia of London in 2001. I ordered a copy right away, and when it arrived was pleased to find a full account of Simon's story. There are many other tales and accounts in the book: a good read for cat lovers. I was able to contact the author, Val Lewis, who referred me to the Imperial War Museum archives in London as a source of material about Simon and she also kindly supplied the address of a very valuable contact, an officer who had been on Amethyst at the time, and who had helped her with information and photographs of Simon.
Information from the PDSA
In the meantime, the PDSA in Telford had been very helpful. In particular, I had still wanted to know the current status of the Dickin Medal, and also whether the cemetery in Ilford was accessible to me as a member of the public, so that I could visit to see and photograph Simon's grave and memorial. While the medal had been introduced originally as a wartime award for animals in the armed services, further awards have been made more recently, notably in connection with the Twin Towers attacks of 11 September 2001. This was considered to be a suitable occasion to amend the rules a little; I presumed, therefore, that the medal could now be presented again to any animals whose conduct in time of war or terrorist attack merited it (see the main Simon story for more details of awards made). I was sent an attractive and informative booklet about the medal, its history and the animals that have won it, including details of the New York 9/11 awards. I learned also that the PDSA cemetery in Ilford is always open and accessible to the public, and was able to establish its exact location using internet maps. It's very close to the east London end of the M11 motorway, and so is easy to find and reach, being situated behind the PDSA Animal Hospital on the outskirts of Ilford (see location map). I determined to visit it.
The Animal Cemetery at Ilford

One glorious 'Indian summer' Saturday in October 2002, with sunshine all the way there and all the way back, I drove the couple of hundred or so miles from the Welsh border to east London and found the cemetery. On a Saturday the hospital was closed and I had the place to myself. It was a remarkable spot: amidst all the nearby motorways, power lines, traffic and hustle and bustle of a Saturday afternoon in suburban London, it was an oasis of tranquillity. So peaceful; I just didn't notice the traffic or other extraneous noise, and with a variety of trees and shrubs in their autumn colours it was unforgettable and really quite a special place. I was so pleased to have made the trip, and took many photographs.

I located Simon's grave and his quite splendid memorial with its inscription: Throughout the Amethyst incident, his behaviour was of the highest order. There were many other memorials to beloved pets, mostly cats and dogs, with some very poignant inscriptions expressing great devotion to long-departed companions. Most looked to be half a century old or more; at this time many of the graves' surface features had had to be removed as they were more or less derelict, and in places the uneven ground was becoming a hazard to visitors. No matter: the grass was cut, the place was very tidy and it gave the impression of being well cared for. Just a very few graves showed signs of recent attention — including Simon's (left) which had some plastic flowers in a container — but then the great majority of the owners of pets buried here must themselves have passed on by now. It's perhaps unlikely that succeeding generations of the families would bother with the graves of pets they probably didn't even know.
Other pet memorials at the Ilford Animal Cemetery — left-click thumbnails to enlarge
Lack of funding
While sitting in the shade of one of the several fine trees and contemplating this lovely spot for a time, I wondered whether it could be made available again for use. There is space and there would be many people who would gladly pay, and pay well, for a spot and a memorial here to their pets. I made this suggestion in a letter to the Animal Hospital, and received a reply from the PDSA's Property Services Department, responsible for the cemetery's upkeep. Apparently modern regulations that would have had to be complied with made it impossible at the time, as a considerable sum of money would have been needed to upgrade the plot, and the PDSA — funded entirely by voluntary donations — did not have the funds to spend on it. Therefore the news in late 2006 of funding becoming available to refurbish the whole place was very welcome.
[ See the paragraph Ilford Revisited near the end of this account —Ed. ]
Memorial in Plymouth
One interesting outcome of my correspondence with the PDSA was that I was told there was another memorial to Simon at the PDSA hospital in Plymouth. This was the first I had heard of the existence of the plaque there, and I thought it would be good to have a photograph of it. Plymouth is a long way from Wrexham, but I resolved to visit when I could.
I later learned that this plaque was sculpted by Elizabeth Muntz, and had been unveiled on 13 April 1950 by Lt Geoffrey Weston, who had been severely wounded in the attack on Amethyst, but had acted as captain until Kerans arrived. The president of Plymouth PDSA, speaking at the unveiling ceremony, had said he could not help feeling that 'the poor cat, having lost his ship, his friends and his liberty, felt there was not much worth living for and died partly of a broken heart'.
What became of Simon's Medal?
Amethyst was decommissioned in 1954 and mothballed at Lishally, Londonderry, in Northern Ireland, as part of the Royal Naval Reserve fleet (my thanks to Ken McCormack of Derry for this information), and Simon's medal is likely to have been held on the ship until then. It would have been treated as a naval trophy — of which each ship had several — but when a ship is decommissioned its trophies go to HMS Nelson, a shore-based establishment in Portsmouth, where they are kept. A reduction in the size of the Navy led to fewer trophies being retained, and so Simon's medal was eventually auctioned and bought by a Canadian private collector, who kept it until 1993. At that time it came up for auction again, and was expected to fetch £3,000 to £5,000; however, the Eaton Film Company of London bought it for over £23,000 (some 32,000 US dollars). Apparently they wished to use it in a video film about animals in war.
I contacted them to ask if they still held the medal and whether perhaps I would be able to see/photograph it. They declined my request, but sent me a photo (of not particularly good quality, considering they are a film company!), a flyer about the video they had made, and confirmed that Simon's medal remained in their bank vault.
The medal was released in 1999, when it was loaned for a memorial exhibition in Plymouth to mark the 50th anniversary of the Amethyst incident; and then it was loaned to London's Imperial War Museum in 2006/07 for the 'Animals in War' exhibition. In 2009/10 HMS Collingwood, a shore-based naval establishment on the south coast of England, mounted a private exhibition to commemorate the 60th anniversary of the Yangtze Incident, and once again the medal was released by Eaton. This time it was loaned to the Royal Navy for a year, the duration of the exhibition, but it remains the property of Eaton Films. The PDSA has an article about the exhibition and the Yangtze Incident.
Lt Cdr Hett
The next step was to get in touch with Lt Cdr Hett, the retired naval officer whose details Val Lewis had given me. I wrote explaining what I was doing and how I had acquired his address, and asked whether he would help my research. He replied that he would be pleased to do so, but I would need to visit him to be able to see his various scrapbooks and mementoes.
A visit was arranged in early February 2003, and I was able to meet him to view and read his material one afternoon, then return the following morning and take some of it for copying. Hett could hardly have been more helpful: he had arranged several scrapbooks with material from 1949 to date, and had marked where anything relating to Simon was located in the books, so it could be found easily. He also lined up several published books relating to the incident; more about those shortly. I read and noted photographs and articles I thought would be of interest, and took a look at the books. Stewart also possessed a couple of videos, including what I thought was the quite strange one for which Eaton Films had purchased Simon's medal. In addition there was a short newsreel clip taken at Amethyst's homecoming in 1949, on which Simon could actually be seen alive. A treasure: I would have loved a copy, but didn't wish to take further advantage of Stewart Hett's kindness.
'Cat Officer'
The following morning we went to photocopy a quantity of material I would have been unlikely to find elsewhere, certainly not in so readily accessible a form, and I am greatly indebted to Lt Cdr Hett. Following my visit, he kindly answered a few other questions that came to mind when I was writing an article for The Cat magazine, who had expressed an interest in featuring Simon's story. I further discovered that it was actually he who had been appointed 'cat officer', when Simon became famous and someone was needed to deal with all the mail and gifts that arrived — but he was very modest about this and said that the captain had done most of the work.
Other Amethyst Memorials
Hett also told me of two other Amethyst-related locations: a further one near Plymouth and one in Staffordshire. It was interesting that he reported that the majority of enquiries he had dealt with over the years concerning Amethyst had been about Simon!
Books
Upon my return home I wanted to see whether any of the books Stewart had shown me could be found second-hand using the internet. There was a small, contemporary paperback by Vera Cooper devoted exclusively to Simon's story; and Two Perfectly Marvellous Cats by Rosamond Young, detailing both his story and that of Faith, the wartime cat of St Augustine's Church in London. Faith had also been awarded a PDSA medal, although not the Dickin since she was a 'civilian' cat. And I wanted an account of the whole Amethyst story; so on Stewart Hett's recommendation I sought Escape of the Amethyst by E. Lucas Phillips. I was able to obtain perfectly good copies of all these, as well as They also Serve, a more general account of animals' exploits in wartime.
TIME Magazine
Another thread in Simon's story I came across was that upon his death his fame was such that he merited an obituary paragraph in TIME magazine. I wondered how I might obtain a copy, then more than half a century old, but at the time the internet wasn't much help. A professional contact led me to enquire at the Scottish National Library, where a copy might be held. Sure enough it was, and for payment of a modest fee they sent a photocopy. As time moved on the obituary could be read in full online; later still, it was moved behind a subscription paywall but the complete version can still be seen at the Internet Archive.
More places to visit
The remaining leads to follow were those given me by Lt Cdr Hett. The PDSA hospital plaque in Plymouth I now knew of, but apparently there was also a further memorial to Amethyst, and a separate small one to Simon, at the China Fleet Club in Saltash. Hett had a picture of it; but I wanted to take my own, so my future visit would need to include both Plymouth and Saltash.
The National Memorial Arboretum
The second spot mentioned was The National Memorial Arboretum at Alrewas, in Staffordshire, where there's a memorial to the four ships involved in the incident and their dead, although nothing specific to Simon. This was a place I had never heard about, but it isn't too far from where I live. It's a millennium project, and a national memorial to those who died in any of Britain's wars. The individual memorials are sponsored by each different regiment, service or other wartime organisation that wishes to do so. I visited on a bitterly cold day in March 2003; but it was interesting and I was able to take some photographs, including the memorial for Amethyst which is part of the imaginative Yangtze Incident Grove. It will be a most impressive place in some years' time when all the saplings have grown.
I revisited the Arboretum in the summer of 2005, on a much sunnier and warmer day than for my first visit a couple of years earlier, and it was good to see that the Arboretum had grown, both in popularity and literally in terms of the saplings' growth. The Yangtze Grove had been enhanced by the addition of a black marble plinth at its centre (left); each side of the rectangular section of it bearing the name of one of the four ships involved in the action and rescue. There's also a plaque with full details of the incident (not pictured). My latest visit to the Arboretum, in June 2009, showed a quite different scene from that bleak March day in 2003. This (right) is how the memorial had developed in the intervening six years; as well as the growing greenery there is now a low encircling fence around the site, which I think enhances its appearance.
There's much to see here at Alrewas (not far from Lichfield) and a good number of organisations are now represented. Full details — with a map of the site and suggested routes around it, and its history — can be found at the website (take the link above, then click on 'The NMA' tab).
Plymouth
Some months later I was able to make the trip to Plymouth, which struck me as a pleasant city; I had never visited before. I called at the PDSA hospital, where the plaque to Simon is situated just inside the entrance, and was kindly allowed to take photographs. I had earlier contacted the China Fleet Club and was expected there, so made my way across the impressive Tamar Bridge to Cornwall. The manager of the club, Dave O'Sullevan — himself an ex-naval man — was most kind, especially as I was essentially a casual visitor. Over a coffee he gave me a brief history of the China Fleet Club and why it is where it is: a fascinating story in itself (see the History link on their page here). I was then given a comprehensive guided tour and was able to photograph the memorials I had come to see. It was a glorious sunny morning, which is by no means always the case in the Plymouth area.
China Fleet Club, Saltash: Amethyst plaque (left),
memorial to Simon (centre) and detail of Simon's plaque (right) — click to enlarge
Not long after this trip, British Pathe News made all their archive newsreels available on the internet, and so I could download the 1949 one which reported Amethyst's homecoming to Plymouth. Simon was briefly shown — so at last I had a fleeting glimpse of him alive!
Unexpected contact
My quest for information about Simon took two further unexpected turns during 2005, when two people having direct connections to him contacted me as a result of seeing our account of his story on this website.

The first was Anna Grant, elder daughter of Ian Griffiths, Amethyst's captain when Simon joined the ship. She most kindly lent her father's photo albums containing pictures from his naval career, including some of the vessels he served on or commanded; his wedding and his young family; and — of particular interest to us! — half a dozen photos of Simon when he first became a crew member as a youngster. One is shown here; you will find the others on a separate page dedicated to Lt Cdr Griffiths.
During the summer it was a great pleasure to meet Anna and her husband, and we were able to make the meeting a rendezvous with Lt Cdr Stewart Hett at the same time. I am most grateful to Anna and Stuart Grant for their kindness and help, and we remain in touch.
Simon's rescuer
A few months later I received a message that turned out to be from George Hickinbottom, a young seaman on Amethyst in 1948, who said he was actually responsible for taking Simon on board in the first place. This revelation caused us to revise our account of how the cat had come aboard. George had a couple of models of Simon (the smaller one he made himself); had done paintings of Amethyst and of the cat; and had written a fascinating book about all seven of the ships that have borne the name of Amethyst between 1793 and 1957, when the last one was scrapped (The Seven Glorious Amethysts, 1994, privately published).
I was fortunate to be able to visit George, and am much indebted to him for agreeing to meet me, as a complete stranger, and for sharing with me some of his memories of Simon and HMS Amethyst. We're delighted to be able to show pictures of some of his memorabilia.
Imperial War Museum
In summer 2006 I visited the Imperial War Museum in London, not just to catch the Animals in War exhibition — for which I was able to assist the Simon tableau in a small way — but to examine two very large scrapbooks in their archives. They include all manner of newspaper articles, photos and other material of the time concerning Amethyst, collected by her captain Lt Cdr John Kerans and others. They are fascinating: there's quite a bit about Simon and I found out some details I hadn't known before.
Ilford revisited — and good news
In autumn 2006 I made a second journey to the PDSA's Ilford cemetery, looking for the grave of one of the Home Office cats called Peter, said to be buried there. I found several headstones inscribed 'Peter', but none seemed to be the one I was seeking. I felt the general condition of the cemetery had deteriorated considerably since my previous visit four years earlier, although Simon's grave remained in good shape. Therefore I was thrilled to learn, in November 2006, that the PDSA had been successful in obtaining a grant of £50,000 (about 70,000 US dollars) from one of the UK lotteries for the purpose of refurbishing and improving the site. The work was carried out during 2007 and on 13 December the cemetery, now much enhanced, was formally reopened. I was fortunate in being invited to attend the opening, and a full report and photographs can be seen at this page.
Conclusion
And so my research into the story of the life and times of Simon the cat is more or less complete, although one thing I have not been able to establish is what might have happened to his Blue Cross medal (see reference in Simon's main story at the link below). I doubt whether I shall ever find that out. But it has been a fascinating quest, leading in some quite unexpected directions, and it seems that this diminutive feline, who had only a short life more than 60 years ago, is not forgotten. I was struck by the helpfulness of all the people with whom I came into contact, and express my warm thanks to them all. For a fuller list of acknowledgements, see the following link for Simon's story.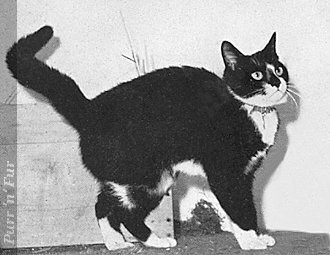 Like to read Simon's full story now?
The main page for
Simon of HMS Amethyst
includes more photos, information and links,
and also gives access to two further companion pages which may be of interest.
I would be from anyone connected with HMS Amethyst,
or anyone who can provide further information
about Simon and his exploits.
---