Fragments 26
Mog, the swimming cat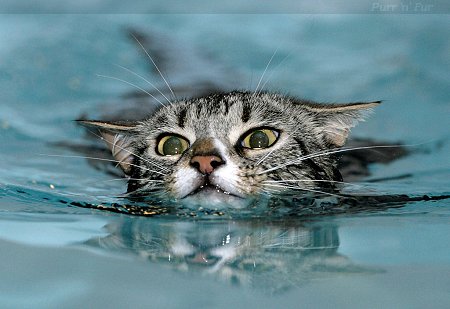 Lostwithiel, Cornwall, England
Click thumbnails for enlargements (JavaScript should be enabled)
Mog was a young, friendly, tabby cat about town in Lostwithiel, Cornwall, the most south-westerly English county. Described by his owner, Veronica Ashworth, as an 'escape artist' who loved to follow people, he was well known in the town, and time after time was being brought home from shops and cafes. He attended band practice, accompanied a town guided walk, and spent much of his time in the waiting room of the local dental surgery enjoying the attentions of patients and staff.

However in November 2010 Mog's life was changed for ever. His home was flooded and his humans had to move into temporary accommodation, with no garden, so he was taken for walks twice a day on a harness and lead. On returning to their own home in February 2011 he became confused, tried to return to the temporary home, and on the way was hit by a car which drove off and left him for dead. Fortunately the local policewoman saw the incident and rushed him to the vet's, but having suffered internal bleeding he was not expected to survive.
Against the odds and after some time on a drip he pulled through. But there had also been serious nerve damage to his front legs: paralysed and with no sense of feeling, they would not bear his weight, he was unable to walk, and Veronica was warned it was unlikely this would change.

But slowly Mog learned to move around again by walking on his 'elbows' — he could also sit up on his hind legs, like a meerkat. Sensing Mog's determination to overcome his difficulties, the vet suggested hydrotherapy to regain strength in the leg muscles, and Mog began attending weekly swimming sessions at a canine hydrotherapy pool.
At first this horrified him — most cats aren't noted for their love of water! — but after Veronica joined him in the pool and encouraged him to swim towards her, Mog settled down to the job in hand. He was very vocal while doing so! — Veronica said, 'He makes a lot of noise about it, but he does it.'

As time went on he astonished everyone by swimming laps of the pool, and after ten sessions of stretching his legs in the water there had been some improvement: the left was still bent, but he was able to put some weight on the other. At this point the story reached the media, and Mog appeared on local TV and in local, national and international newspapers and magazines.

By 2012, after about a year of therapy and then aged 2, Mog had made incredible progress and largely recovered the use of his right front leg, although there'd been less improvement to the left and he'll probably never walk completely normally. He was said to be very agile and happy, but unfortunately had to be confined to the house and couldn't resume his town wanderings. But he did become a 'PAT cat' — Pets as Therapy cat. As such he makes regular visits to two local care homes for the elderly, where his friendliness and love of people mean that he enjoys his visits while bringing pleasure to the residents.
Links
---