Austria: Vienna's Cat Café
Café Neko
Since this article was originally written in 2012 for Vienna's Café Neko, further cat cafés opened outside Asia, in Europe and elsewhere, and a summary of these, collated in 2014/15, is appended further down the page.
Since then, however, more have opened and the concept of a cat café is no longer unusual, so we will not be adding any more or keeping existing entries updated. Treat the entries here as a 'snapshot in time'.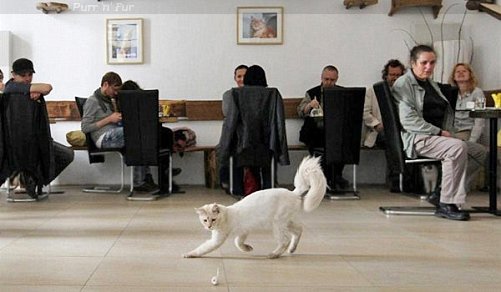 Click thumbnails for enlargements (JavaScript should be enabled)
The first cat café opened in Taipei, Taiwan in 1998, and word soon spread to Japan where the first opened in Osaka in 2005, and there are now (2012) nearly 40 in Tokyo alone. The idea is for a themed café where patrons pay a fee so as to be able to watch and interact with cats. Their popularity in Japan arises probably because so many apartments in the overcrowded city forbid pets, and because cats provide relaxing companionship in what can be a stressful and lonely urban life. Some cafés concentrate on a particular kind of cat, such as black cats or stray cats, or a certain breed. There are strict rules in order to conform to animal welfare and health-and-safety laws, and so that the feline residents are not, for example, pestered by unruly children or disturbed when sleeping.


In May 2012 the first cat café in Europe opened in the centre of Vienna, Austria's capital city, and is called Cafe Neko (neko means 'cat' in Japanese). It was opened by long-time Vienna resident Takako Ishimitsu, a 47-year-old woman originally from Nagoya in Japan, who had gone to Vienna some 20 years previously. She said she decided to open a cat café in order to introduce some aspects of Japanese culture to Vienna — but she had to spend three years negotiating with city officials over hygiene issues before it was allowed to trade. Says Ishimitsu, 'Showing unknown Japanese concepts is good for Austria. I had various ideas, and the cat café project was the least difficult one to realise. And at the same time, I can do something good for the Vienna animal shelter that I have been supporting for years.'



Customers can stroke and interact with five feline hosts, named Sonja, Thomas, Moritz, Luca and Momo; all are quite young and they all came from city animal shelters. They roam freely about the café and take naps when they choose. The 50-seat establishment has been an instant hit with locals and tourists alike. 'Surprisingly, more than 99 per cent of the reactions have been positive,' says the owner. 'One of our goals is to provide some happiness to people who cannot have cats on their own, because of their jobs or because family members suffer from allergies.' It's less surprising that there's a strict 'no dogs' policy!
Links
---
More cat cafés — a growing phenomenon
Since we wrote the above in 2012, the idea of cat cafés has caught on more widely; here, in no particular order, are some we've heard about. With the welfare of the cats in mind, some have limits on ages of children allowed in, or even don't allow kids at all. The details and links were collated during 2014/15, and entries are no longer being updated.
Paris, France
Le Café des Chats opened in September 2013 in the smart Marais district with a dozen cats, and has become very popular. The animals themselves are abandoned and stray cats adopted from pet rescue centres. Manager Margaux Gandelon says that animal welfare is paramount and customers are prohibited from subjecting the cats to undue stress. She is prepared to evict any customers who fail to play by the rules, although she admits she is more lenient with the animal residents: 'Cats are cats,' she says.
Yahoo News
NBC News.
Budapest, Hungary
The Cat Café Budapest has 13 cats, '15 kinds of tea, 15 kinds of coffee specialties, quality wines and delicious cakes'. A YouTube video leads on to the London cat café. The Budapest café has an active Facebook page, begun in February 2013 — but you need to read Hungarian.
London, England
It was surely only a matter of time before there was a cat café in London, and on 1 March 2014 Lady Dinah's Cat Emporium opened; it's situated in Bethnal Green in the east of the city. Reservations must be made in advance. See a short but charming video clip announcing the opening, and a Facebook page has many thousands of Likes.
Lady Dinah's website where there are details of the resident felines.
Catster
Totnes, Devon, England
Pre-dating Lady Dinah's London café by nearly a year, the small Totnes Cats Café opened in June 2012, after thousands of residents of the town signed a petition opposing the opening of a Costa branch there, causing the coffee giant to withdraw. The café had just six cats that belonged to the founder and owner, Liz Dyas, who is very experienced with animals and had run a wildlife hospital for years; they lived with her and travelled to the café each day from Tuesday to Saturday each week. The café was very popular and was commercially successful — but unfortunately, perhaps partly because of all the travelling back and forth with baskets of cats, Mrs Dyas' health started to cause concern and so the establishment closed in May 2014: see the announcement on the former website (archived copy). There are pictures of Rolo, Lilac, Glee, Jet, Felix and Mango on the Facebook page, and see also the Express for more about what the Totnes café was like.
Update: the cat café reopened where the cats lived, at Newton Abbot. Now called Cool for Cats Café, there is also a feline therapy lounge and garden area. The background to the change is here at the new website, where there's also a page for the feline team. As far as we can see, the Facebook page remains the same.
St Petersburg, Russia
The Cat Republic began as a branch if the Vsevolozhsk Cat Museum located just outside St Petersburg, but is now a separate entity in the city, consisting of several rooms that house a café, a library, a mini-cinema, an exhibition gallery and a souvenir shop, all based around a cat theme. The walls of the cats' domain are decorated with fanciful murals and wall paintings on cat themes. There are generally about 15 cats in residence, and a number of them originated in the band of felines that patrol the Hermitage Museum. The stated goal of The Cat Republic is to educate the public on proper cat care. In addition to a variety of events and master classes, meetings with felinologists and zoopsychologists are held regularly. There is one simple rule for visitors: they should never try to interact with or pet a cat if it seems unwilling to engage or is not interested.
Very good account at the St Petersburg Times (2 pages; archived copy); and excellent pictures at the Daily Mail (Oct 2012).
Montreal, Canada
Montreal's Café des Chats opened in September 2014 and is home to eight cats, all from the local SPCA. This claims to be the first permanent cat café to open its doors in North America. Another establishment, Café Chat l'Heureux, was due to open in late September 2014.
Café des Chats - Toronto Star and at Facebook (in French/English)
Café Chat l'Heureux - website and Facebook (French/English)
Update: Le Café des Chats appears to have closed in late 2017. The website is no longer live (see archived copy), although the Facebook page is still up.
Toronto, Canada
As with San Francisco, in September 2014 preparations were under way for the opening of the Kitty Cat Café.
Crowdfunding campaign at IndieGogo.
Update: it doesn't look as if the Kitty Cat Café ever actually opened (this and this may be the reasons, from which it seems another, Pet Me Meow, was having similar difficulties). Another by the name of TOT the Cat Café ultimately became the first such establishment to open in Toronto, but it closed two years later — from the latter link it seems many cats were rehomed while it was open, and the closure may not be permanent.
Vancouver, Canada
Plans don't seem to be quite as advanced as in Toronto, but funding has been raised and a location is being sought for a cat café to be known as Catfé.
Catfé website
Facebook
GlobalNews.ca
New York City, USA
New York had its first cat café in late April 2014, opened by pet-food company Purina One, but that was a 'pop-up café' open for just four days; see articles at New York Eater, and also Columbus EMP. However, in mid-December of the same year the permanent Meow Parlour opened on Manhattan's Lower East Side. with seven felines, later planned to be increased to twelve. The cats come from a local rescue centre and all are available for adoption. The Meow Parlour Patisserie is open nearby so that customers can buy macaroons and jam cookies shaped like cat faces and bring them to the Meow Parlour, thus complying with city health regulations.
Meow Parlour website
Facebook
TIME magazine with video clip | Life with Cats and clip | Inhabitat - opening day article
San Diego, California, USA
By Christmas 2014 Southern California's cat café, called simply The Cat Café, had been open for coffee and snacks, with 'guest cats' visiting on some days, but in early January 2015 it opened officially and proved very popular, with several of the adoptable cats quickly being successfully homed.
Cat Café website
Facebook
San Francisco, California, USA
Plans were well advanced for a cat café called KitTea, but finding a suitable — and affordable — location proved more difficult than expected and an opening in 2014 became impossible. However, the Facebook page indicated at the end of January 2015 that construction and fitting out were under way. In the meantime Bay Area cat lovers could go to Oakland (see below).
KitTea website
Facebook
Oakland, California, USA
The Cat Town Café in Oakland became the first permanent cat café in the United States when it opened in late October 2014, although it has now (end of 2014) been joined by the ones in New York City and in San Diego. It is an adoption centre as well as a café, and has a variable number of cats, up to 20.
Cat Town website
Facebook
San Francisco Eater | Life with Cats
Portland, Oregon, USA
Purrington's Cat Lounge opened in January 2015, and cats are available for adoption. Shortly after opening, following several incidents of children not being properly supervised by parents, to the detriment of the cats, Purrington's introduced a requirement that children be a minimum of 10 years of age.
Purrington's website
Facebook
Seattle, Washington State, USA
There is apparently a Seattle cat café 'in the works'.
Munich, Germany
Although Katie's Blue Cat Café in Berlin apparently does not have cats, a cat café opened in the Bavarian city of Munich in May 2013. Called Café Katzentempel, it has six young cats — all rescued animals; they have their own 'quiet room' they can retreat to when they wish, and plenty of high ledges so they can gaze down on customers when not feeling sociable. Animal welfare is emphasised, and a portion of profits each year will be donated to animal charities. The café serves vegetarian and vegan meals as well as coffee and pastries and opens daily except Mondays.
Café Katzentempel website
Facebook
Melbourne, Australia
The cat café movement has reached 'down under', and Australia's first one opened in Melbourne in August 2014, being called simply Cat Café Melbourne. As has become usual, the cats, ten of them, are all from shelters; there were 11, but Burma, the oldest, following a bout of illness when he went to live with a carer to recover, seemed unhappy when he returned and so has been rehomed permanently where he will be the only cat. The café has fairly strict 'rules of engagement' to ensure the cats' welfare, and in fact visitors, who cannot be under 8 years old, have to book in advance to arrange to go there.
Cat Café Melbourne website with a page of details about the cats
Facebook
Guardian, Aug 2014: Melbourne's cat cafe – like AA, only for cat owners
Madrid, Spain
La Gatoteca in Madrid opened in October 2013 and is more than just a cat café: it's the HQ of an animal rescue organisation, and the cats there — all from shelters in the city — are available for adoption. The cat population is therefore likely to change over time.
La Gatoteca website (in English) and further information at their page here. Website in Spanish and at Facebook.
Brussels, Belgium
Belgium's first cat café, Le Chat Touille, opened in November 2014 in the Saint-Gilles district of Brussels. There are just five cats: Fripouille, Noël, Coca, Simba, and Chiquita. As with most cat cafés they originate from a local shelter, and all are adoptable. Entry here is free.
Facebook
Traveling Cats - lovely photos of the five residents | Metro - café photos
Copenhagen, Denmark
This Café Miao — owned by a Chinese lady actually called Miao — opened at the end of July 2014 with just three cats, now increased to six. It's in the city centre, not far from the world-famous Tivoli amusement park.
Café Miao website with page for the cats and a gallery
Facebook
Short video clip | Duo Diaries - review and good photos | More photos