Feline Fragments is written/compiled by
Patrick Roberts
Copyright © 2003-19 Purr 'n' Fur UK

Certain features on these pages use JavaScript

---
[ Home | Famous | Featuring | Fans | Fabled | Folios | Fun | Philately | Fragments | Flotsam ]
Privacy statement

Fragments 15
including
Nini, the Venetian Cat
The MacNab, a tragic tale from yesteryear
---
Nini, the Venetian Cat
A national celebrity in the 1890s
Click thumbnails for enlargements (JavaScript should be enabled)
Nini was a large, white tomcat who lived in Venice, Italy in the early 1890s and frequented one of the numerous small coffee shops, a caffè called the Caffè del Frari off the Piazza San Marco, where his day job was that of chief mouser. After more than a century it's not quite clear why, but Nini became a national celebrity, and people would come from far and wide to the coffee shop to visit him and to sign the visitors' book that the shop kept for him. We are not talking just of minor celebrities here. The composer Giuseppe Verdi came, and wrote a few bars from his opera La Traviata in the book; Pope Leo XIII visited; Emperor Menelik III of Ethiopia signed the book; and Czar Alexander III of Russia visited when he came to Venice. Even the reigning monarch, King Umberto I, with his wife Queen Margherita, visited the caffè and signed Nini's book.
It is reported that Nini also 'moonlighted' at the nearby Venetian state archives, where he liked to take a nap and would deter the mice from nibbling the papers. He also often visited the Frari church across the road — the church of Santa Maria Gloriosa del Frari — where he had many admirers. With all these many friends, numerous tributes were paid when he died in 1894, and a wake was held in his honour. He was said to have been 'a rare gem' and 'a gentleman, white of fur and affable with great and small'. Unfortunately the visitors' book disappeared somewhere over the years; but the Caffè del Frari still exists and serves good coffee in an agreeable atmosphere, and there is a depiction of Nini on one of the windows (above).
A delightful children's book was published in 2010, written by Mary Nethery and with charming illustrations by John Manders. While the author admits she has taken some liberties with Nini's story, it's well worth a read. For details of The Famous Nini: A Mostly True Story of How a Plain White Cat Became a Star, see here.
* * * * * * * * * *



Today there are of course still cats in Venice; many of them are pets that tend to make their rounds at night when there are fewer dogs about on the streets. But there are also strays, particularly in the area of the San Lorenzo church, where some wooden cat shelters have been erected and local people come to feed the animals. There is an organisation called Dingo (site is in Italian) that runs the cat sanctuaries in the city. An excellent small photo gallery of Venetian cats, a couple of which we have reproduced here, is to be found at Italy Heaven. The site also suggests where tourists can see cats in Venice, and where cat souvenirs can be bought.
---




<! -- THE MACNAB-->
The MacNab

A Tragic Tale
from Yesteryear
The Caledonia was a transatlantic liner, one of several ships of that name in the history of the Anchor Line, operating from Glasgow, Scotland. Her mascot, who had been with the ship since her maiden voyage, was a large and intelligent black cat called Duffy MacNab — or so it said on his collar, but to the members of the liner's crew he was always The MacNab. He was loved and respected, an integral part of the crew, and had never missed a voyage; amazingly, he had sailed over 200,000 miles on board (more than 320,000 km) and had just completed his 80th crossing of the Atlantic. 'He was an aristocrat through and through,' said Dr Jenkins, ship's surgeon. 'He would eat only the best food, and was unusual in that he preferred tea to drink instead of milk.'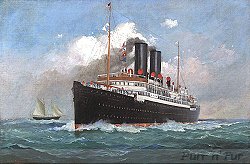 It was The MacNab's custom to be first ashore when the ship arrived in port, and then he would usually not be seen again until sailing day, when, just before the gangplank was raised, he would 'come marching aboard with all the dignity and self-importance of the king of cats that he was'. For some reason, when Caledonia arrived in New York early in August 1913 the cat was unusually impatient to be ashore — and it proved to be his undoing. He took up his normal position on the foc's'le, from where he would jump to the roof of the Anchor Line pier at West 26th Street, a distance of about four feet (just over a metre). On this occasion, though, he launched himself at the pier from ten feet away (over 3 metres) — and he didn't make it. He fell straight into the water.
Quartermaster Angus MacLean, an intimate friend of The MacNab, had watched the disaster and did not hesitate; he dived in immediately to try to save the cat. Despite swimming around and under the pier for a quarter of an hour or so, he was unable to find any trace of him; he must have been quickly carried away by the tide. It was a tragic ending to this ship's cat's illustrious career, and he was much mourned.
(Summarised from the account in the New York Times of 4 August 1913)
---
If you would like to comment please contact me,
Drop in at our Facebook page

Return to
Feline Fragments index
Other sections:
Famous Felines
Featuring Felines
Fabled Felines
Feline Folios
Feline Fun
Fans of Felines
Feline Philately
Feline Flotsam
or visit the Purr 'n' Fur home page

Our featured feline at the head of the page, and your companion through Feline Fragments, is Maggie. She came as a kitten from Powys Cat Rescue. One of their volunteers had seen her wandering around, apparently uncared for, and thought her rather young to be just left to roam. The person 'responsible' for her said she 'didn't care', and so the youngster was taken in for rehoming. Only about 4 months old when I brought her home in 2003, she was a self-assured soul, probably because of her early experience, and was soon climbing all the available trees in the garden. She was a determined hunter in her earlier days, and was usually outside, but now prefers snoozing unless the weather is good. She has superb whiskers — and as the photo shows, loves getting into things! (see it here without the puzzle effect)
---
Copyright © Patrick Roberts & Purr 'n' Fur UK 2003-19
All rights reserved
Images and content (whether original or used at Purr 'n' Fur with permission) may NOT be reproduced
at another website or otherwise copied or used without prior permission.
Direct linking (hotlinking) to ANY images on this site is strictly forbidden.
If you want something, !
Page created September 2009, with later additions and revisions