Fragments 1
including
What it means to be a Cat Owner
Why do Cats Purr?
What it means to be a cat owner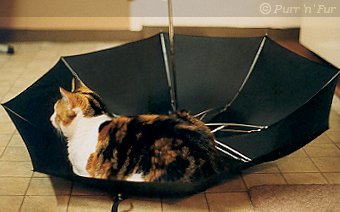 You will never read a newspaper on a sunny table again — or at least only the edges that a furry body doesn't quite cover.
You must practise saying, "Oh, he's never been up there before," as if it were true, when your cat leaps onto the table to see what the dinner guests have left.
There will never be peace in your home whenever you open a packet of ham or similar; keen eyes and twitching noses will appear as if by magic.
You will find yourself at the cat food section of your supermarket longer than any other, as you ponder which varieties he might — but only MIGHT — eat this week.
In summer you will become over-protective of any bird, butterfly, bee or frog foolhardy enough to come into your garden.
It's important to learn to sleep with either bent or weighted legs, and to lengthen the time spent in one position.
If you have more than one cat, it's vital to remember which bits are a rubbing favourite for each. Tickle the wrong bit, and you could have a hand nicely decorated with red scratches.
Accept that you may sometimes have a bottom nearly as hairy as his — because he will always prefer YOUR chair.
Although you will have made good feeding arrangements when you go for a holiday, you will spend much time wondering whether your cat is deprived of love. He will let you know when you get back.
You will become a good shot with a water pistol when the troublesome neighbourhood tom learns about the goodies available on the inside of your cat-flap.
Footnote: Poppy, whose picture above illustrates this item, was one of our own family cats — read a short piece about her here.
---
Why do cats purr?
[ by Patrick Wise, writing in BAPLA Journal, 1995 ]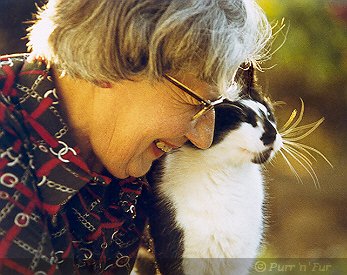 My theory is this: it is part of a training programme. Cats, as you know, are exceptionally intelligent creatures, much more so than humans in many cases. In days of yore (whenever that was), they decided that working was for humans, dogs and carthorses, and most definitely beneath them. Have you ever seen a cat yoked up to a plough, or pulling a sled? Of course not. No self-respecting cat would so demean itself.
However, this poses the problem as to how they can live in the manner to which intelligent cats (i.e. most of them) wish to become accustomed. So for many years, cats have been studying humans, and training them to provide the essentials of life, such as heated cat beds, fresh salmon, full-cream milk and cat flaps. I ask you, who in their right mind would hack a hole in a perfectly good, solid, expensive door, just to install a cat-sized opening?
Still, their observations and resultant training have been so successful that cats now enjoy even private medical care. And when their humans are away, they enjoy accommodation in top-class hotels with names like Puss Inn, The Feline Hilton and Paws Awhile. No human expense is spared. Like royalty, cats never carry cash themselves, knowing that their fully trained humans will always provide.
Naturally, they don't stoop to 'low' human speech themselves, so they have devised a simple control system to convey their wishes to their humans, rather as farmers whistle at their sheepdogs. Cats purrrrr their orders to humans. It is amazing how a cat can control its human by this simple technique. For a purr, humans will do almost anything, short of jumping through a flaming hoop - but maybe, with a little persistence, and if they really felt the need, they could get their humans to do that too!
---