Working Felines: Shop & Store Cats 3
including
Dante and Masha of Wroclaw
Docent and Rudolf of Warsaw
Kicia from Kolobrzeg and Traktor in Dźwirzyno
---
Shops in Poland
Left-click thumbnails for enlargements (JavaScript should be enabled),
but please allow all images to load before doing so, or some may not display
(if this happens, use Refresh from your toolbar to reload the page)
Dante and Masha

Wroclaw, Poland


Antykwariat Naukowy is a bookshop in Szewska Street (Shoemakers' Street) in Wroclaw, which is in Lower Silesia and is south-west Poland's largest city. The shop specialises in second-hand scientific books — its name means literally 'Scientific Antiques'. The proprietor, Mrs Malgorzata Chabinska, acquired a female cat some years ago, which had six kittens; five were adopted, but the sixth became the resident bookshop cat in 2005 while still a youngster. He became well known in the city and was named Dante — because on his first day there he chose a copy of Dante's Divine Comedy to use as a pillow! He seemed to love books, preferring older, hard-cover volumes to more modern material, and particularly liked history books, especially ones about the ancient world.
Dante spent most of his time in the shop, although he liked the occasional stroll outside. A favourite sleeping place was in the shop's front window. where among the books, maps and pictures a framed notice was placed saying (in Polish, of course): 'Yes, I am alive. Please, don't knock on the window. I am sleeping now!'
Dante became very popular, to the extent of being mentioned in various city guides, as well as in press articles and on the internet, where he had a blog with many more lovely images, and also a busy Facebook page. He even received e-mails from other countries with good wishes and photos tourists had taken of him. People sometimes brought him toys and even food, such as fish or chicken, but he preferred cat food. Many shop customers were more interested in seeing the cat than in the books!
In late 2016 Dante became ill, and despite the best efforts of his vet he died shortly before Christmas. There were many heartfelt tributes on his Facebook page, and he was clearly mourned by many people. On that page (see link above), by scrolling down to 23 December 2016 there is a tribute to Dante in the form of a gallery of some 50 images of him. There was some mention of creating a brass likeness of him to be placed at the shop, perhaps on the window ledge outside where he liked to sit, but we haven't heard any more of that so far.


Meanwhile the shop is not cat-less! It seems that in the last year or so of Dante's life, when he went away for 'holidays' in the country, there was an understudy, Masha, who took over at the shop. Masha has now stepped into Dante's paws and has settled well into his new duties. He's another very handsome ginger-and-white cat; it remains to be seen whether he will in time achieve the fame of his predecessor! Meanwhile he has, of course, taken over the Facebook page.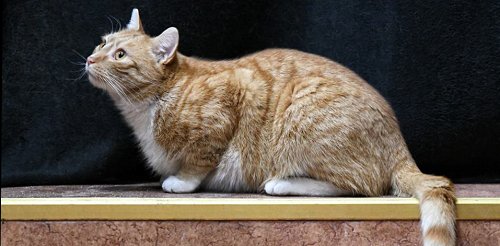 ---
Docent

Warsaw, Poland

Lexykon is a bookshop on Nowy Swiat Street in the Polish capital city, Warsaw. There used to be a resident cat called Kicia, 15 years old, but she went missing one day and was never found. So in 2004 Docent took over; he was a kitten at the time and his name was chosen from entries in a competition among customers. It refers to a kind of science degree, in between 'Doctor' and 'Professor'. Docent is very popular among shop customers and passers-by, and tourists stop to take pictures of him.
In August 2010 he went missing from the shop — actually for the second time. The first was when he was still a kitten, and apparently he went to live with one of the neighbours, but returned after a few days. His second disappearance was for longer; appeals were made in the press and on TV and a search was organised by his many friends. It was 10 days before he was found in a basement not far from the shop, dirty and very hungry but otherwise unharmed. He was soon back indulging in his favourite pastime of lounging around on the books!
---
Rudolf

Warsaw, Poland

Another Warsaw bookshop with a cat was Bagatelli, on Bagatela Street, and the resident feline here was Rudolf. The shop owner had seen a poster for the book Shadow of the Wind, by Carlosa Ruiz Zarfona, showing a striking image of a cat sitting on some books. As a result, he thought a resident cat would make for a good atmosphere in the shop. For some time he sought the 'right' cat, and eventually in 2005 found Rudolf, who fitted in perfectly. He's described as proud and confident, but open and friendly to customers — more of a president than a bookseller, perhaps! The owner said people were constantly asking questions such as, 'Where did the cat come from?' 'What's his name?' 'Does he live in the bookstore?' and so on.
More recently (late 2013) the Bagatelli shop had closed, but in January 2014 Rudolf was due to resume his shop-cat duties in new premises as soon as alterations were complete. The new shop is called 'Na pieterku' ('On the First Floor').
---
Meanwhile, on the Baltic coast . . .


Kolobrzeg is a spa city and holiday resort on the Baltic Sea coast in western Pomerania; and on Towarowa Street in the town is a shop selling amber and silver jewellery. The shop has a resident cat called Kicia, who likes to spend much of her time reclining on the shop counter, like a sphinx — or perhaps she's a secret guard! Being completely black, she's quite difficult to photograph.


Some 12 km (just over 7 miles) from Kolobrzeg is the small village of Dźwirzyno — and another 'business cat'. It isn't strictly a shop, but a place for the hire of bicycles and 'dyno-cars', which are a kind of four-wheeled cycle with a steering wheel. Operations there are supervised by Traktor, a handsome grey cat who likes to keep an eye on things from a vantage point on the roof.
We're very grateful to our Polish friend Bartlomiej for researching and sending us details
of all the Polish cats pictured here.
---