Tom, of the
hardware store

Conrad, Iowa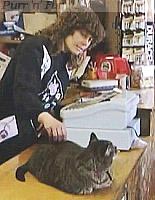 Tom was a well-known citizen in the small town of Conrad, Iowa. He was found by Ralph Kibby, owner of the hardware store, lying on the back steps of the store one freezing cold, snowy morning in February 1992, half frozen to death. He was not expected to live, but was taken to the vet clinic, warmed up and given shots. The vet felt that if he lived until the next day, he would recover, and that proved to be the case, although throughout his life Tom suffered from ongoing sinus problems, sneezing and snuffling that resisted treatment, because of his early experience.
He became a well-known and fondly regarded 'cat about town', and people passing through would come to see him or would ask about him. Although based at the hardware shop, most of the merchants would see him sometime on his rounds. He would go to the Conrad General Store; to the Country Cobbler, where he liked to take a drink of water, and perhaps sleep on a pile of soft fabric or even in the front window; to the NAPA store, especially in summer because he liked the air conditioning; and to the Post Office, where he liked to have a morning nap and maybe watch people collecting their mail. He was not allowed in the bar (although sometimes he would sneak in of a morning and sleep on the pool table), the doctor's office, the grocery store or the restaurant.
Sometimes in summer he would stay out all night; and on one occasion in 1994 he disappeared for several days. People became quite concerned, and the Conrad Record carried his picture on the cover with an article asking about his whereabouts. After some 10 days he was found safe and well at a farmhouse several miles out of town — prompting the Record to put his picture on the cover again! News of his return quickly spread and for a week or so afterwards many people visited the hardware store to see him and hear the whole story. The council at one point passed a strict pet ordinance, which would have severely curtailed Tomís social rounds; however, when the ordinance appeared in the paper, the last line read '... except for Tom'. All the traffic in town yielded to him when he decided to unhurriedly cross the road.
As far as we can establish, Tom died in about 2000. His 'guardian', Ralph Kibby, missed him terribly. He died a few years later, in 2005; now, his grandson says, the store has been sold and a lot has changed in Conrad since Tom was free to wander the streets and drop in on people. There's an excellent Iowa Public TV video clip at YouTube featuring Tom and another famous Iowa feline, Dewey of Spencer (which was only some 100 miles away). Dating from 1998, it's well worth watching to see these two beloved cats, sadly both now gone, going about their business.
---