Articles in Featuring Felines are written by
Patrick Roberts
Copyright © 2003-14 Purr 'n' Fur UK

Certain features on these pages use JavaScript

---
[ Home | Famous | Featuring | Fans | Fabled | Folios | Fun | Philately | Fragments | Flotsam ]

Working Felines: Shop & Store Cats 1
including
Fup of Portland, Oregon
Dori, bookstore cat from Florida
---
Fup
of Portland, Oregon
Left-click thumbnails for enlargements (JavaScript should be enabled),
but please allow all images to load before doing so, or some may not display
(if this happens, use Refresh from your toolbar to reload the page)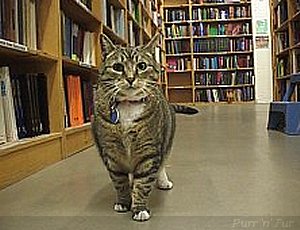 Fup was the well-loved tabby cat at Powell's Technical Books shop in Portland, Oregon, in the west of the USA. She was born around the end of June 1988 at an animal shelter. She had sisters named Clara and Ro, but it was Fup that was adopted by the shop's first manager. Her unusual name probably came from a book of the same name by Jim Dodge (about a duck!) published in 1983 — although it has been said that the manager's sister had a cat called Puff and the name was just reversed.
Whatever the truth, Fup joined the shop as a kitten and moved with it to new premises in 1990, where she stayed and became an institution and undisputed ruler of her realm until her death — apart from a six-week period in 1997 when the store was being renovated and she found temporary accommodation with one of Powell's employees. Apparently she was never all that interested in the world outside the shop, apart from watching birds and falling leaves through the windows. Fup took her duties seriously and didn't seem to care much for toys.
In her younger days she liked to climb ladders and sit on top of bookshelves, from where she could look down on her domain (and her humans). She wasn't very patient with her employee co-workers and had a reputation for biting anyone who took more than about 30 seconds of her time; but in later years she mellowed — especially towards anyone who shared their lunch! (Canned tuna, chicken and cold meats were particularly appreciated.) And she was always waiting to greet whoever came to open the shop in the morning and give her breakfast.
Fup seemed to appreciate visitors to the shop and was more patient with them; she had many fans and received plenty of gifts, cards and e-mail messages. Powell's produces an online newsletter every two weeks, and for years the quarter of a million subscribers could follow Fup's adventures and comments via her own column in it. Over 200 entries, right from the first in 1999, can be seen there.

Failing health caught up with Fup in October 2007 at the age of 19, and on the 25th her lifelong vet came to the store to gently put her to sleep, with several of her co-workers present. Donations in her name were requested for the Oregon Humane Society, and it was said that a memorial may be placed at a later date. At the time of writing in June 2009 almost 400 messages of condolence had been posted, the latest as recently as March.
Powell's have a photo album where there are a few more photos of Fup and there are more here. Her image remains on the store's gift cards and T-shirts.
---
Dori, the Bookstore Cat
Florida
Left-click thumbnails for enlargements (JavaScript should be enabled),
but please allow all images to load before doing so, or some may not display
(if this happens, use Refresh from your toolbar to reload the page)


Joan Elizabeth Pruha is a writer in Florida, who wrote to us in 2008. She had recently published a book of poetry in praise of calico cats ('tortoiseshell', or 'tortie-and-white', in the UK). When she went to a book signing to launch her book, she was delighted to find a calico cat sprawled on top of the computer monitor — which seemed to be a good omen and certainly a serendipitous thing to occur! Although she says some customers ignored the cat, and a few thought it was stuffed, she knew better and when she started to stroke it, it stretched out its legs and began kneading the air. Here, with our thanks and acknowledgement, is Joan's account of the calico cat:
"All Booked Up" is a bookstore in The Villages (a retirement complex in Florida). The store has a friendly, knowledgeable staff and a large selection of new and used books, including many by local authors.

A beautiful calico cat named Dori is a pleasant addition to the store. Sprawled out across the top of the register, like an Egyptian sphinx, the cat watches every transaction.

Jodi Cowart, the store owner, said, 'I adopted the cat from a local shelter when customers kept telling me the store needed a bookstore cat.' She was chosen from the many cats at the shelter because of her friendliness and because she had the same name as Jodi's daughter, although later the cat's name was changed to Dori.

During the day, there is a steady flow of shoppers who park their golf carts in front of the store. From her vantage point on top of the register, looking through the window, Dori is good at recognizing which customers will bring treats, and which ones will bypass the bookstore to shop elsewhere in the plaza. She is also able to distinguish those customers who bring treats regularly! She meets them at the door; but the rest of the day she stays sprawled out atop the register.

I believe in the old Japanese superstition that calico cats bring luck to anyone who owns one. The day I had my book signing at the store, having Dori sitting beside me helped me to sell all my books in a very short time!
Update 2010: the All Booked Up website we previously linked to, to find out more about Dori or to contact Jodi, now carries a note redirecting to the bookshop's page at alibris . . . where there is a small image of Dori, so she's clearly still on duty!
Joan's book of poems and pictures, entitled Calico Cats, was first published in 2007
by PublishAmerica, ISBN 1 4241 9473 3.
---
If you would like to comment please contact me,
Drop in at our Facebook page

Return to:
Working Cats index
Featuring Felines main index
for more real-life stories and adventures of cats
Other sections:
Famous Felines
Fabled Felines
Feline Folios
Feline Fun
Fans of Felines
Feline Philately
Feline Fragments
Feline Flotsam
or visit the Purr 'n' Fur home page

Our featured feline at the head of the page is Socks, pictured in 2003 surveying his 'estate' in the early morning sunshine. Affectionately known as Soxy, he blossomed from a thin and hungry stray into a substantial and handsome cat who loved life and company, and his gentle ways endeared him to many friends. He is now no longer with us, but you can read more from his human companion here.
---
Copyright © Patrick Roberts & Purr 'n' Fur UK 2003-14
All rights reserved
Images and content (whether original or used at Purr 'n' Fur with permission) may NOT be reproduced
at another website or otherwise copied or used without prior permission.
Direct linking (hotlinking) to ANY images on this site is strictly forbidden.
If you want something, !
Page created June 2009 (partially from earlier page, 2006) with later revisions