Fred, the undercover cat
New York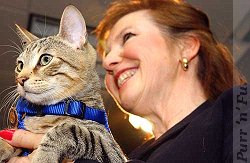 Fred's life was all too brief, but it brought him fame. Born in spring 2005 in Brooklyn, he was rescued from the streets by an animal care organisation and was found to be suffering from pneumonia, as well as having one lung collapsed and the other partly filled with fluid. Although given treatment, he failed to respond, and was not expected to live. However, enter Carol Moran, an assistant district attorney who oversees cases of animal cruelty. She saw Fred in the shelter and adopted him, together with a female cat, one of his litter mates. She named them Fred and George, after the prankster Weasley twins in the Harry Potter books. With the aid of antibiotics, steam showers, intensive treatment and plenty of 'tlc', Fred recovered and became quite rambunctious, delighting in chasing Carol's two other cats and even her dogs.
Fred's assistance was enlisted by the DA's office in February 2006 to act as an undercover secret agent, posing as a potential patient for a man suspected of carrying out surgery on animals while being completely unqualified, then charging high fees for botched work. Working with a human undercover detective, Fred was used as bait in a sting operation to catch the offender. Stephen Vassall turned out to be a 28-year-old college student with no training or qualifications in veterinary care; as a result he was charged with several offences and pleaded guilty when later tried.
A few days after the successful operation Fred, wearing a tiny police badge on his collar, posed for photos with his owner Carol. Then on 18 May 2006 he attended a news conference and small ceremony, when he was presented by Brooklyn DA Charles Hynes with a Law Enforcement Appreciation Award. He shared this moment of fame with Burt, a Boston terrier who had barely survived one of Vassall's botched operations and whose owner it was who had alerted police.
Fred was honoured again in July 2006 when he appeared at an 'adopt-a-thon' benefit event for cats and dogs, hosted by Mary Tyler Moore and Bernadette Peters. On that occasion he received a Mayor's Alliance Award, which is presented to remarkable animals.

After all this excitement Fred retired to his home in Queens, to continue chasing his sister and generally enjoy life as a youngster should. He was scheduled to perhaps become a 'teaching animal' — one that would be taken into city schools to help teach children about the treatment and care of animals; there were also offers from animal talent agencies with a view to possible work on TV commercials.
Sadly, though, none of it was to come about. On 10 August, when Carol opened the door to take the dogs out, the cats chased one another out, as they often did, but for some reason Fred ran around outside the house and into the street, where he was hit by a car and died instantly. 'I donít know what he saw, what struck him or what possessed him,' said Carol. Fred's promising career had come to an untimely and premature end.
---