Miscellany 2
including
Stig of Inverness Recycling Centre, Scotland
Tom, of Merryfield Pottery, Torquay, Devon
---
'Stig of the Dump'

Inverness
Scotland
Left-click thumbnails for enlargements (JavaScript should be enabled),
but please allow all images to load before doing so, or some may not display
(if this happens, use Refresh from your toolbar to reload the page)
This crafty cat lived at the Scottish Highland Council's Inverness recycling facility for 12 years and became a firm favourite with staff and members of the public using the facility. Kind-hearted recyclers regularly left packets and tins of food, and boxes of cat biscuit treats for the much loved moggy. They also used to give cash donations to help with vet's bills.

Over the years Stig had featured regularly in the Highland News newspaper. In 2010, he was run over by a car, but escaped serious injury and the workers at the depot raised the £200 needed to cover the vet's bill. Shortly after that, he was 'kitted out' in his own specially made 'hi-vis' vest — just like his fellow workers — in which he strutted about proudly for all to see at the centre (main picture, above).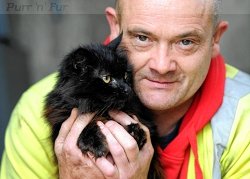 However, a problem arose in 2011 when the eight-strong team of workers at the depot claimed that Highland Council rules prevented any cash from changing hands on the site, meaning that they themselves had to meet any bills for Stig's veterinary treatment. But after the cat was featured again in the Highland News, the council announced that a benefactor had come forward offering to pay for the 12-year-old feline to have a full veterinary inspection and any necessary treatment. Then, after spending a short time with Ness Cat Rescue, he was rehomed.
Unfortunately, in August 2012 it was announced that Stig had died. A Facebook post read: 'Stig passed away last week peacefully in his sleep, but at least he got to enjoy a happy retirement in a loving home ... Thanks to all who did their utmost for him. R.I.P. Stig xxx'. Tam Mitchell, who works at the recycling centre and who set up the Facebook page, said: 'I was gutted when I found out. We had Stig for years; he was like a member of the family. But it got too dangerous for him to be here, so I'm glad that he was in a lovely home and he had a happy retirement.'
There's a short STV news clip of Stig at the recyling centre in October 2011.
---
Tom
of Merryfield Pottery, Torquay, Devon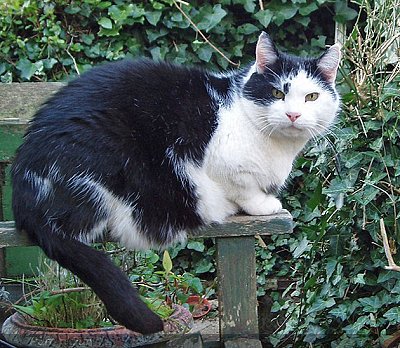 Left-click thumbnails for enlargements (JavaScript should be enabled),
but please allow all images to load before doing so, or some may not display
(if this happens, use Refresh from your toolbar to reload the page)
Merryfield Pottery is a family-run company based in Torquay, in the south-west of England, making ornamental pottery, much of which features animals and especially cats. Fittingly, therefore, they have a resident cat! Tom tells his own story:
'My name is Tom and I'm a black-and-white British Shorthair and proud of it! When I arrived at my new home (after a spell at the rescue centre) I could smell the sea air and quickly established my territory in my new Cottage Garden.

'While finding the most comfortable place to sleep, I noticed various models of myself and other cats! I soon learned that my new family were potters. The pottery is called Merryfield Pottery, and it wasn't long before I learned all aspects of pottery life and became responsible for quality control — making sure that every carefully hand-painted model, whether ginger, black-and-white, grey tabby, tortoiseshell or Siamese, is finished to our usual high standard.

'We make many different cat models including 'Louis' at Wells Cathedral and the Salisbury Cathedral Cat 'Wolfie', who sadly recently passed away.

'When I am curled up in my sunny corner everyone thinks I'm asleep! In fact: 'I'm not asleep — I'm thinking', dreaming up new ideas for our pottery. I'm nearly 20 years old now and can thoroughly recommend life with my family at Merryfield Pottery on the English Riviera.'
---