Working Felines: Hotel Cats 5
Hotel bed-warmers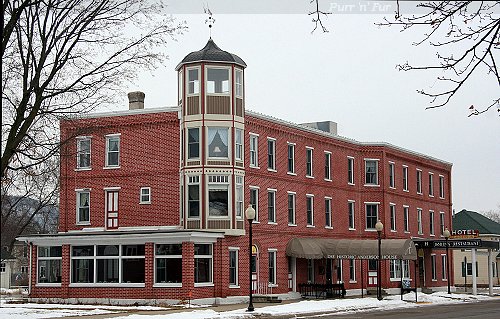 Historic Anderson House
Wabasha
Minnesota
Left-click thumbnails for enlargements (JavaScript should be enabled),
but please allow all images to load before doing so, or some may not display
(if this happens, use Refresh from your toolbar to reload the page)
Located in central Wabasha, Minnesota, a Mississippi river town just about 70 miles (110 km) from the 'twin cities' of Minneapolis and St Paul, the Historic Anderson House was founded in 1856 by 'Grandma Anderson', a woman who believed that hospitality was everything. Run as a bed-and-breakfast hotel — the oldest operating hotel in the state — the House became known for its cats! Guests could have their own bed-warmer upon request when making a booking, with a cat delivered to their room for their enjoyment, together with litter box, food, water and toys. For anyone allergic to or not wanting a feline companion there were cat-free rooms — but with 51 rooms and only seven cats (the number seemed to vary from time to time; sometimes there were only five, perhaps depending on the number of available and suitable cats —Ed.), demand for feline companions usually exceeded supply! Regulars would book early to try to ensure that their favourite cat was available, and the cats were 'in use' nearly all the time.
The trademark cats were welcomed by the community, such that when the 150-year anniversary came up in 2006, specially commissioned cat statues with names like 'Sally Straycat' and 'Max A. Million' were placed all over Wabasha and at Anderson House itself, creating a 'cat statue walk' that could be enjoyed by visitors to the town.
'Chief cat' at the inn was Morris, a half-Siamese (although he didn't look like one), who was enormous at around 30 lb. (some 13 or 14 kg.) in weight and actually bore a marked resemblance to his celebrated namesake of TV fame. He was a favourite with guests and requested time after time. Sydney, another 30-pounder, was an actual Siamese and also a favourite, while the team was completed by Tiger, Kitten, Goblin, Tom and Aloysius. Obviously the team changed if cats died, and at some point there were Ginger — another favourite — and Arnold (for more on Arnold, see below).

The tradition of 'renting' cats to guests did not date back for ages, but was begun in the 1970s when a young man who had been staying in Rochester while going to the Mayo Clinic there wandered over to Wabasha one weekend when he didn't have appointments. He was so taken with the inn that he decided to move in there and drive into Rochester each day — and one day after about a week he enquired whether they had any cats. They did — so they lent him one, sent food for it each day and cleaned the litter box. He was so appreciative that he told the International News Service. The cats-for-loan story went out all over the country, and before they knew it, people were making their room reservations and reserving a cat at the same time.

Cats were chosen carefully to ensure they would be suitable for meeting numerous people; they were mostly taken on as young kittens from known parents, so they could be socialised and trained. Siamese and Burmese tended to be favoured. An exception to the kitten rule was Tiger, who was unemployed but worked her way up by hanging around the hotel kitchen for three or four months until she got the job. Every time someone touched her she started to purr, so she seemed a natural for the position. All manner of people came to stay and asked for a cat in their room; the most common reasons were either that they missed their own cats, or that the feline presence made them feel more at home.
Regrettably, economic hardship forced the hotel to close in March 2009. The owners, Teresa and Mike Smith, had tried unsuccessfully to sell the inn for three years and had been subsidising it with their retirement savings, but eventually had to declare bankruptcy. In 2011 the hotel was purchased by new owners and was remodelled, reopening a few months later. But sadly, the tradition of cats in rooms was not reinstated. All the cats resident when the closure came were found new homes with friends, staff and former employees.
Children's book and animated film

Arnold was a central character in the children's story Blumpoe the Grumpoe meets Arnold the Cat, by Jean Davies Okimoto with illustrations by Howie Schneider (1990, Joy Street Books; reprinted 1997, Books To You). In the words of an online review, 'A grumpy old man and a shy young cat form an unlikely friendship at a Minnesota inn which provides its guests with a cat for the night.' In 1992 it was one of the titles included in the Emmy award-nominated TV series Shelley Duvall's Bedtime Stories which consisted of short animated adaptations with celebrity narrators: Blumpoe the Grumpoe was narrated by John Candy. We haven't seen the book but the animation is amusing and nicely done, with an endearing Arnold ultimately winning over the exceptionally grumpy Horace P. Blumpoe: view it at YouTube (14 mins). A total of nineteen cats is mentioned in the film, but it's not known whether this reflected the reality at Anderson House at the time.
Links
Image of the 'cat menu' courtesy of Matt at Flickr, where it can be seen full-sized
---