Working Felines: Hotel Cats 4
including
Carmen of the Hotel Negresco, Nice
Fa-Raon and Kléopatre of the Hotel le Bristol, Paris
---
Three French luxury-hotel cats
Trois chats d'hôtels de luxe français
---
Carmen

Hotel Negresco
Nice, France
Left-click thumbnails for enlargements (JavaScript should be enabled),
but please allow all images to load before doing so, or some may not display
(if this happens, use Refresh from your toolbar to reload the page)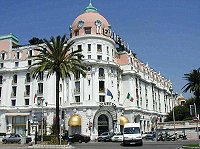 The Negresco, situated overlooking the Mediterranean on the Promenade des Anglais in Nice, south of France, was opened in 1913 and still boasts a beautiful pink dome designed by Alexandre Eiffel, of Eiffel Tower fame. The establishment has had its ups and downs over the years, but is now regarded as one of the world's leading hotels and was declared a national monument in 1974. And it has resident cats!

There was an earlier cat called Poussy (right), a large male ginger-and-white cat who apparently wandered in one day and decided to stay. He died in 2000 at the age of about 16, after a number of years at the hotel among distinguished guests, stars and even crowned heads of state. There was a book written about him in France (site is in French), and we believe he also featured in a movie. The book, rather than being just an account of Poussy himself, is a fictional tale recounting how, with his superior sensory abilities, he was able to detect and thwart a major jewel heist at the hotel and bring the thief to justice!

Now there is Carmen, who came to the hotel in about 2003 or 2004 and is also a red tabby, but unusually for this coat colour is a female. She had a bad start in life. A truck driver, Monsieur Dufay, was in a village one day when he noticed some young people in a field with a gun. As he went to investigate, they ran off; they had been shooting at cats. A mother cat and two of her kittens were dead, but one was still alive. M. Dufay went to catch her, but she was understandably frightened and jumped up onto some rocks. Eventually he was able to reach her and take her home. No doubt as a result of her experiences, she likes to be somewhere high up, and would often make hair-raising trips along balcony rails. The Dufays were worried that she would fall, and so when they heard Mme Augier of the Hotel Negresco was looking for a cat to take Poussy's place, they decided to offer Carmen.
[ Image source: our thanks to uyynnig at Flickr ]
She quickly became used to the hotel; most of her time is spent near the bar, or on the main staircase where she can be greeted by guests, and in the early mornings she likes to supervise activities in the lobby. A favourite sleeping spot is on top of a display case, where there's a lamp that keeps it comfortably warm; but if she chooses to sleep on a chair, hotel guests have to find somewhere else to sit! Occasionally she may venture outside onto the terrace to take the sea air. She has been known to spend the night in the bedroom of a guest whose caresses she has deigned to accept.

Carmen doesn't care for left-overs from the Negresco's starred restaurant, but prefers the cat food the barman serves her each morning and evening behind the bar. Sometimes, though, she'll make for the hotel switchboard, where she knows a little cache of treats is kept for her. Mme Augier, octogenarian owner of the hotel she inherited from her father, despite her busy schedule always finds a few minutes every day to spend with the cat.
But Carmen has many other fans; people like to have their photo taken with her, and some guests return each year to see her. Not only that: she receives fan mail, and quite often postcards arrive that are addressed to her! (see picture). If you don't like cats, thatís too bad; a few years ago a guest who hated cats booked a suite and wanted the cat kept confined away from her, but Mme Augier refused, saying it was Carmenís home — so the guest left!
And just to endorse her fame, and because she's often at the bar, the hotel has created a cocktail called 'Le Carmen'.
---
Fa-Raon and Kléopatre of Paris


The beautiful, blue-eyed white Birman cat Fa-Raon (the French for 'pharaoh' is 'pharaon'), born in May 2010, has since taken up the position of chief meeter and greeter at the exclusive five-star Hotel le Bristol in Paris, France, where as resident feline he generally oversees things. He rubs shoulders — or exchanges head-butts — with guests, including celebrities such as Brad Pitt, Angelina Jolie and Leonardo di Caprio when they are in town. Occasionally he might meet selected guests at the airport in the hotel's Smart Car. He features on the hotel's website, where he is described as intelligent and affectionate, and as 'living in harmony with the hotel, playing in the lobby, wandering through the French-style gardens and purring with pleasure at attention and strokes from guests and staff.' Not surprisingly, he is a great favourite with children. After a busy day's duties are completed, his favoured relaxation spot is at the concierge's desk. 'C'est une bonne vie,' he purrs contentedly — 'It's a good life.'

Now life is even better for Fa-Raon, as since the end of July 2014 he has a feline companion, a white female Birman named Kléopatre (right). She is playful, affectionate — and beautiful. The two of them enjoy each other's company.
There are some images of the cats on the hotel website, and also a few photos on the Facebook page.

---