Oswald Clingan-Smith
Cat-in-Charge, Stirling Smith Art Gallery and Museum
Concise Catography and Purriculum Vitae
Born: 12 May 2004
Ancestry: descendant of Sehkmet and Bastet, the Cat Gods of Ancient Egypt, who came with Princess Scota, daughter of Pharaoh, to establish Scotland through the Scottish line of Gib Hunter and Pussy Baudrons.
Life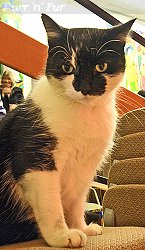 Oswald arrived in Kings Park to live with the Clingan family in the summer of 2004, at 38 Albert Place, Stirling. He took an immediate interest in the Stirling Smith Art Gallery and Museum at 40 Albert Place, where he applied for the position of Cat-in-Residence. At that time there was no vacancy, though, and the grey eminence grise was Willow of Royal Gardens, who regularly came to the Smith grounds to beat up Oswald.
Oswald was one of the first to embrace Twitter, and his Twitter Feeds, which extended across Kings Park, often ended in a struggle between him and the Smith Collection's Curator, Michael McGinnes, for the possession of daft wee wrens and sparrows, which Oswald caught on a regular basis. Apart from tweets, he would also catch moles, voles and rabbits. At one point, his name was changed to 'Lee Harvey' Oswald, as he was a dedicated assassin.
Oswald soon set about making himself indispensable in the service of the Stirling Smith and the visiting public. Working as a volunteer, he offered a meet-and-greet service to visitors, welcoming them at the door and guiding them round the building. When they got tired of the exhibits, he stretched himself out full length on the floor so that the finer aspects of his fur coat could be examined and stroked, free of charge.
He also became a regular attender at the evening meetings in the Smith's Lecture Theatre. Among his favoured groups are the Stirling Literary Society, the Field and Archaeology Society, the Philatelic Society, the Embroiderer's Guild and the Astronomy Society. During the day he attends the meetings of the 1745 Association and the Geographical Society. He has a particular liking for the Dickens Book Group and has enjoyed all of the Dickens novels read on these occasions.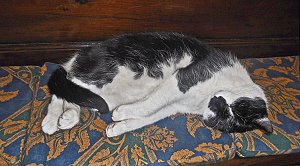 Oswald developed a special interest in museum security. When staff members were called out in the middle of the night to attend to the alarm system, Oswald would often be waiting to accompany their inspection. Sometimes Oswald himself was the cause of the alarm call-out, having been locked in the Theatre or some other alarmed section of the building after hours. He usually woke between 8 and 10 p.m. to set off the alarm and check that the system was in working order.
Oswald has an additional interest in gardening, and on Thursdays accompanies gardeners Martin, Magda, Sue and others around the grounds. Although Oswald's task is to keep the garden rabbit-free, his catches are sometimes not fully appreciated. He has been hunted himself, on one occasion by the Stirling Wolf (or a Husky look-alike), which chased him up a tree.
Oswald has never neglected his office duties, and has been known to despatch half-finished e-mails to many surprised recipients at the click of a mouse.
In 2009 Oswald moved with the Clingan family to Bridge of Allan, a place full of unpleasant, nasty fat cats who made the life of a great Kings Park Cat a misery — so on 25 August 2011 Kim Clingan brought him back to the Smith, where he has been ever since.
He spent Christmas 2011 inspecting a brand new luxury cattery and giving it his seal of approval, before it opened to other cats in 2012.
By 24 February 2012 he had doubled in weight. Since put on a diet, he is totally happy as Cat-in-Charge of the Smith, where he continues to serve the public and do the work of two giant Edinburgh pandas.
Social media
Since June 2007 Oswald has had his own film on YouTube, with some excellent photos. His Twitter Feeds are private, but you can follow him on [the other] Twitter, where he tweets with the name @smithsupercat and provides museum information from a cat's point of view. And he has a Facebook page.