Cats at
The Alamo

San Antonio, Texas
Left-click thumbnails for enlargements (JavaScript should be enabled),
but please allow all images to load before doing so, or some may not display
(if this happens, use Refresh from your toolbar to reload the page)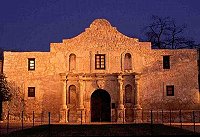 The centuries-old former mission church and battleground of Texan independence in San Antonio — now a museum and tourist attraction — has had cats before. There are records in the diary of a Mexican soldier of a feline roaming the grounds in 1836, the year of the famous battle; unfortunately, taking it as a sign of bad luck, Mexican troops shot and killed it.
Ruby
A happier story unfolded in 1981, when a night patrolman for the Alamo Rangers, Ranger Kaetz, came across a kitten apparently stuck up a tree. He coaxed it down with some milk and it followed him back to his office, where it shared a little chicken from his lunchbox, then promptly curled up and went to sleep on his desk. He left it there for the night, but in the morning thought he should put it out of the back gate rather than leaving it on the premises.
When he returned the next night the little tortoiseshell (calico) kitten greeted him again, and the next and successive nights. Eventually Kaetz went to see the librarians in the Daughters of the Republic of Texas Library to ask them what he should do about the little visitor. It turned out that she had also made friends with one of the day guards, Kensey, was known as 'Kensey's Kitten' and had been given permission to remain and be 'the Alamo cat' — provided she went for a health check-up and to have her vaccinations. The vet said she was too young to be spayed.

She made herself at home, was given the name Ruby LeGato, made friends with the local squirrels, found favourite snoozing places, and continued to join the guards on their rounds — particularly Ranger Kaetz on the night shift. As the year came to a close she seemed to become rather plump, and it was realised that, although just a youngster herself, she was going to have kittens! On 2 February 1982 she produced six babies, several with only stumps for tails, in a special cosy 'den' that Kaetz had prepared for her in a warm and dark corner of the Long Barracks. Someone called the newspaper, which sent a reporter, and then a TV news camera crew arrived. Ruby was unperturbed by all the attention and just got on with looking after her kittens. They were the first babies known to have been born in the Alamo grounds, and received many visitors in what became known as 'the nursery'.
As time went by the kittens grew apace, and homes were readily found for them when they were weaned and old enough to leave their mother. By that time, having successfully reared all the youngsters, Ruby was ready to resume her nightly patrols — having at some point been awarded, on the basis of her guarding abilities, a 'certificate of completion' of the Basic Security Officer Training course from San Antonio College! However, before she took up her duties again the opportunity was taken to have her spayed, as no more kittens were needed at the Alamo.

A few weeks later Kaetz had a few days off and asked his fellow guards to look after Ruby. But when he returned, Kensey was standing waiting for him at the gate with bad news: Ruby had drowned. What had happened no one knew; a raccoon might have scared her and caused her to fall in, or she might have been harassed by a mocking bird, as had happened once before. Kaetz and the others missed her greatly.
Permission was given for Ruby to be buried in a beautiful garden spot by the north wall; a wooden marker was placed there and has since been replaced by a bronze plaque. She will always be part of the Alamo's history, the more so as she was immortalised in a 1988 book for older children by Rita Kerr, The Alamo Cat (Eakin Press, Austin, TX; ISBN 0-89015-639-5: see our review in Folios).
* * * * * * * * * *
C.C.


Some 10 years later a new guardian for the Alamo turned up in the shape of a feral black-and-white cat with 'vibrant golden eyes'; but she was unkempt and hissed at anyone who approached her. She had a litter of kittens in the grounds, but all died. Later she had a second litter, this time all healthy and subsequently adopted. In 1997 she was spayed, became 'much more personable' and was christened Clara Carmack, although everyone knows her as C.C. (Clara Driscoll was an Alamo preservationist who was largely responsible for preventing its demolition, Mary Carmack an Alamo Committee chairperson.)


Now, more than a decade later, C.C. has become well known and as well as her guard duties she's used to greeting tourists and posing for their cameras. The Alamo shop features her on calendars, bookmarks, ornaments and the like; meanwhile she continues to earn her keep by patrolling regularly and keeping the place rodent-free. When off duty she likes to take position on a desk in the library and assist with historical research; and she has a cat door into the greenhouse — another good place for a snooze. A favourite spot for sleeping most afternoons is the couch in the employee lounge. Her other pastimes include looking longingly at koi carp swimming in a pond, but they're much too big to catch; and if she's feeling friendly she may tag along on a tour and — occasionally! — roll over and allow an animal lover to scratch her tummy.


According to maintenance workers, C.C. is bilingual and understands some Spanish as well as English. She has featured in Texas newspapers and on the internet, and many visitors come to see her and take photos. One even made a quilt in her honour (left), which is now displayed in the gift shop — along with the popular lines of calendars, bookmarks, T-shirts (right) and other souvenirs in her likeness that are for sale. Everyone on the staff looks after C.C. 'She's our guard kitty and the grounds are her territory,' says one employee. 'We may be her caretakers, but she's in charge here.'
In March 2011 C.C. was featured on Animal Planet's Must Love Cats TV show in America, and there are some images of her 'helping' at work at the DRTL blog.
---