Church Cats 9
Inigo and Jones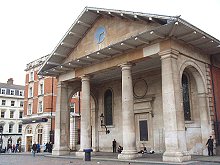 St Paul's Church, Covent Garden, London
Left-click thumbnails for enlargements (JavaScript should be enabled),
but please allow all images to load before doing so, or some may not display
(if this happens, use Refresh from your toolbar to reload the page)

We're pleased to be able to feature cats from a church in the heart of London. St Paul's, known as the 'Actors' Church' because of its long association with the theatrical community, was built nearly 400 years ago, in 1633, by London-born architect Inigo Jones, and it is of course from him that the church cats' names are derived.


Inigo is a female tabby (left), and Jones, often referred to as 'Jonesy' and also a tabby, is her slightly larger brother. Their birth date is uncertain, but their vet thinks they are (at the end of 2011) around 7 years old. They belonged to a former churchwarden of St Paul's, but when they were a couple of years old he became ill and was no longer able to care for them. At that time the present rector, Rev. Simon Grigg, had just taken over the church and was aware there was a problem with rodents so, as he puts it, an 'elegant solution' was to take the cats in at the church. They live and are based there rather than at the rectory, which is some little distance away.
At first they were quite scared and took some time to get used to all the comings and goings; Jones hid under a sofa for three weeks! But they gradually adapted and now, says Rev. Grigg, 'have a most wonderful time'. They have become quite the celebrity felines, and many tourists visit the church specifically to see them. They do not neglect their church duties; they particularly enjoy interrupting weddings by sitting on the bride's dress train, and have even been known to relieve the sadness at a funeral of a cat lover by turning up to offer their condolences. They are extremely pious, joining in morning prayer with Rev. Grigg and the Sacristan every day; of course the fact that they get their morning treat immediately after morning prayer has nothing to do with it!
Many thanks to Reverend Simon Grigg for supplying information about the cats and to Dr Elizabeth Chase for her help.
Note: If any reader has larger photos of Inigo and/or Jones, or ones showing them to better effect,
we'd be pleased to hear from you.
---