Articles in Featuring Felines are written by
Patrick Roberts
Copyright © 2003-12 Purr 'n' Fur UK

Certain features on these pages use JavaScript

---
[ Home | Famous | Featuring | Fans | Fabled | Folios | Fun | Philately | Fragments | Flotsam ]

Church Cats 1
Tom of St Mary Redcliffe
Bristol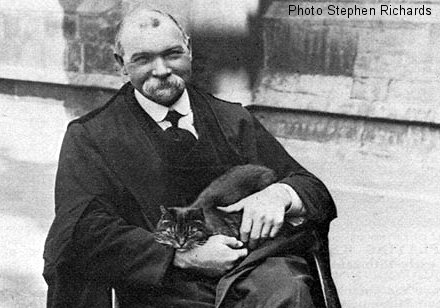 Tom with verger Eli Richards, 1920s
Source: Stephen Richards at Visit Bristol
St Mary Redcliffe is a beautiful church in the city centre of Bristol, in south-western England, and is one of the largest parish churches in the country. There isn't a graveyard as such outside the church — but on the grass area outside the main door there is one small but very unusual memorial tablet: to a cat.

Not named on the stone, Tom, a tabby kitten, was found outside the priests' entrance to the building, sometime in 1912. Maybe he liked the sound of the organ music that was being played at the time! Anyway, he decided it was a good place to stay and spent the next 15 years as 'church cat', becoming quite a local celebrity. For most of his life he was looked after by the verger, Eli Richards.
He would process with the choir on occasion, and also liked to sit by the organist's side during rehearsals and for part of the services. The cat was recalled by blind organist Alfred Hollins, who mentioned in his 1936 reminiscences that Tom would sit beside him on the organ stool. He also often liked to sit on someone's lap in the congregation! — but he wasn't allowed in the chancel and would be removed if he went there. He was said to have attended many more church services than any one of the clergy.
Tom had an enviable reputation as a catcher of rats and mice, and also kept in check the large numbers of pigeons that would frequent the churchyard. He seems to have had a penchant for hiding the remains of his prey — or perhaps he had a favourite spot where he liked to take his victims to devour them. In any case, when the altar cross was removed in the early 1920s, a large zinc bathtub was filled three times with bones and feathers he had left behind!

This staunch church cat died in 1927, and in recognition of his many years of devoted service he was given a grand funeral; the small coffin was borne to its resting place by the verger, accompanied by the vicar and church wardens, while suitable music was played on the organ — which surely Tom would have appreciated.
A sonnet to his memory was written by one Gilbert Croker:
Beneath a stone in Redcliffe's churchyard lies
What was a strange thing in God's house: a cat,
Which was, before its very sad demise,
Often upon the organ-stool just sat
Listening to the music played soft and sweet,
Or, in the organist's lap so still and warm,
It would not 'turn a whisker' at the treat
Of the noise changing to a pedalled storm!
Its purpose in life was to keep from view
Those furry creatures, lest they think a pew -
Especially at Harvest time of year -
To be a place that would, to them, be dear.
Now the number of its years can be found
To all who look within this holy ground.
(With acknowledgements to St Mary's leaflet about Tom, written by Stephen Richards, grandson of former verger Eli.)
Addendum
After writing the original article above, we were contacted by Mrs Diane Robins, to whom many thanks. She wrote that Tom's original name was Blackie, and that he actually belonged to her mother's aunt Alice, who lived near the church. However, Alice and her sister Jesse were the church cleaners and, since the cat followed Alice everywhere, he spent a great deal of time at the church. He would sit in the pews with her and the family on Sundays, and everyone just thought he was the church cat and belonged to the verger. Sometimes he would wander off for days, leaving Alice to worry about him.

So perhaps Tom (or Blackie?) may have led something of a double life; but Mrs Robins stated that it is him who is buried in the churchyard, and also that he's mentioned in a book that her mother wrote with her memories of life at Redcliffe.
---
If you would like to comment please contact me,
Drop in at our Facebook page

Return to:
Featuring Felines index
for more real-life stories and adventures of cats
Other sections:
Famous Felines
Fabled Felines
Feline Folios
Feline Fun
Fans of Felines
Feline Philately
Feline Fragments
Feline Flotsam
or visit the Purr 'n' Fur home page

Our featured feline at the head of the page is Socks, pictured in 2003 surveying his 'estate' in the early morning sunshine. Affectionately known as Soxy, he blossomed from a thin and hungry stray into a substantial and handsome cat who loved life and company, and his gentle ways endeared him to many friends. He is now no longer with us, but you can read more from his human companion here.
---
Copyright © Patrick Roberts & Purr 'n' Fur UK 2003-12
All rights reserved
Images and content (whether original or used at Purr 'n' Fur with permission) may NOT be reproduced
at another website or otherwise copied or used without prior permission.
Direct linking (hotlinking) to ANY images on this site is strictly forbidden.
If you want something, !
Page created September 2006, with later revisions and additions