Cats' Adventures & Travels 24
Other Afghan Rescue Cats
including
Mousetrap
Tinker Bell
---
Left-click thumbnails for enlargements (JavaScript should be enabled),
but please allow all images to load before doing so, or some may not display
(if this happens, use Refresh from your toolbar to reload the page)
Mousetrap

Koshka is far from the only animal, or the only cat, to be befriended by soldiers and taken home, usually to the United States, and there are a few organisations that help with the formalities and arrange travel. In early October 2013 both the Soldiers' Animal Companions (SAC) Fund and Nowzad ran an appeal on Facebook that raised the necessary funds within a day to send a cat called Mousetrap from Afghanistan to the US, to be reunited with the soldier who couldn't bear to leave her behind when his tour of duty was done, and she was due to make the journey soon afterwards.
Her story is best told in her soldier's own words, very slightly edited. His name has not been given. (Forward Operating Base Sharana is located in the Paktika Province of eastern Afghanistan. It's a hub for many, if not most, of the construction projects and training that go on in Afghanistan.)
I was stationed at FOB Sharana for almost six months. Shortly after my arrival I saw a cat in the shadows around my living area. It was very elusive for a long time. I'd put food out for it and the food would disappear by morning. Several months went by without actually seeing the cat, until one day she walked into my room while my door was open! She was friendly as could be, and we bonded instantly.
She seemed to be able to sense danger and would sometimes disappear. She had a keen sense of smell and started showing up down near our work area, where our Indian friends would always be cooking food. Despite all the chaos in our everyday lives while at Sharana, she'd always seem to come around and put smiles on our faces, making us feel a little bit closer to home. I really dreaded the time when I'd have to depart and leave her to fend for herself.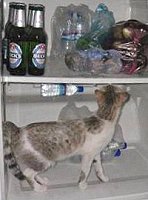 Well, the day came when we started packing up and tearing down most of the wooden structures around our compound. She had several safe havens where she'd hide and they were gone. I hadn't seen her in a few days and figured she'd taken refuge somewhere else. On one of the final days of cleaning up, to my surprise, she appeared out of nowhere!
I looked over and saw her sitting on a jersey barrier. The funny thing is that she was sitting on my small backpack as if she were trying to tell me something! At this point I knew that I couldn't leave her behind. With only several days left before flying out, I needed a plan, and quickly. My only option was to leave her with some friends in another unit who'd be around for another couple of months. They had a problem with mice and gladly looked after her for me until I could figure something out.

I had to leave, but I left some contact info with everyone and told them that I was serious about trying to take Mousetrap home. I found Nowzad and before I knew it a plan came together and after a 100-mile taxi ride she was safe and sound at their shelter.
This was my first tour in Afghanistan, but I did four tours in Iraq and cared for cats, as for some reason they'd always seek me out. It was the same story: not wanting to leave them behind to live a horrible life.
This little kitty stole my heart and I'm going to do everything I can to get her back to my home in Indiana where she'll be a house cat without a worry in the world. She'll have three cat brothers to greet her (Rufus, Snapper and Nike). Thanks for all the help and support!
---
Tinker Bell


At the time of writing (mid-December 2013) Tinker Bell (aka Tinker) was in the process of being rescued from Afghanistan by the soldier who befriended him: 'in the process' because money was being raised to fund his return to the United States, and well over half the required sum of 2900 US dollars had already been donated. As with Mousetrap, Nowzad and the Soldiers' Animal Companion Fund were handling his case.
The cat was abandoned and living in the cold when the soldier found him shivering and looking for food. At first he was wary, as would be expected, but an offering of tuna was too tempting to resist and so he followed his new friend into his small room, which was nice and warm. After some stroking and being talked to, Tinker Bell was purring and feeling better; and he was able to curl up on the soldier's bed. As they got to know each other better the soldier, due to return home before long, was determined that he would offer his new friend a better life, and so the help of the charities was enlisted.
---
Note, February 2022: the US-based SAC Fund and British charity Nowzad helped with these rescues. The SAC Fund was closed in 2017, but Nowzad is very much still operating and also still maintains a shelter and clinic in Kabul. Read a little more about Nowzad and other charities doing similar work
at our companion page:
Rescuing Pets from Afghanistan
And here's another cat rescued by his soldier, Koshka
---