Cats' Adventures & Travels 21
Travelling cat

Pikachu




USA
Left-click thumbnails for enlargements (JavaScript should be enabled),
but please allow all images to load before doing so, or some may not display
(if this happens, use Refresh from your toolbar to reload the page)

When animal advocate Ted Brady first embarked on a cross-country cycling tour of the USA in 2010, his journey was cut short when he was struck by lightning. He needed time to recover but then, discouraged, he aborted the trip. However, after a relentless job search turned up few leads and nothing suitable, Brady decided it was time to get back on the road — with the difference that this time he decided to take his best friend with him: a striking young lynx point Siamese named Pikachu, or 'Pika' for short, who was a rescue cat.

The new trip began in October 2011 in Brady's home town of Bartlesville, Oklahoma, with the object of raising money for, and awareness of, the ASPCA (American Society for the Prevention of Cruelty to Animals) and local animal shelters. Travelling through all manner of terrains and weather conditions, the pair stayed with families or in camps along the way, with Pika riding in a secure covered buggy behind Ted's bike; he said Pika 'rode like royalty in his chariot'.
Along the way, Brady recorded their adventures, posting them online to share with the world and to help further his aims. Their path was not a set one, and Ted and Pika rolled with whatever they encountered, making friends wherever they went. But a couple of months later, in December 2011, Pika went missing during a stop in Albuquerque, New Mexico; a search was instigated with the help of local residents, and an appeal made on TV. Naturally Ted was devastated: he told a TV reporter: 'He's my best buddy and we go everywhere together. The bond that you share with your pet — it's more than just a pet: it's your best friend.' Commenting on the search for Pikachu, he said, 'I'm out here every single day since then, from 8 in the morning till sunset.' See Life with Cats, which includes a clip of Pika in his travel buggy, looking very relaxed.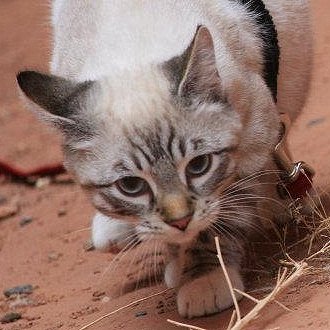 Fortunately he was found after two weeks, not far from the spot where he was thought to have disappeared. A lady phoned to say she thought she'd found him; the description fitted and a trip to a vet confirmed by microchip that it was indeed Pikachu. He'd lost his lead and harness, and was dirty and thin, having lost about a third of his body weight. The cat was given a full medical examination and a grooming and was expected to make a good recovery. In the meantime he was 'grounded', under doctor's orders to stay put and give up the travelling life while he received rest, quiet, nourishment and a stable environment as he recovered from his ordeal. He lived with a foster family in Albuquerque for 30 days and was then re-evaluated.
Details after that seemed a bit sketchy, but it appears the journey was eventually resumed and the pair returned to Oklahoma after about 10 months, in August 2012.
In April 2013 Brady was in Puerto Rico, without Pika, doing some filming. By June he and his girlfriend were planning a road trip with Pikachu and Ted posted a route which would take them through several states, camping along the way — New Mexico, Colorado and Utah, then Arizona, Nevada, and finally through Oregon to Portland — and he invited followers to post names of animal shelters they could call at. Once they were travelling the route appears to have changed somewhat.
Tragedy
The journey began well, and through the first two or three weeks of July Ted shared wonderful photos of Pika as they travelled and explored — and of other cats they met en route. Then, after a short lull, the following post on 4 August 2013:
Four days ago a lightning storm scared Pikachu into the night. As it poured on the tent, all I could think about was how I had lost him on our first trip. It was the worst time of my life. I found myself there again, but now in a predator filled valley.

The following night he came back to the tent meowing, but as I walked towards him, he scurried off. There was no trace of him for the rest of the night. If I would have known that would be the last time I would look into his eyes, I would have sat there across the dirt road, and listened to his story. He was enjoying the world, and would rather chase after mice than be cooped up in the tent with me.

Searching in the woods today I found his lifeless body. His coat still soft, but no more meows, no more squeaks, or face rubs in the morning, just one extremely broken heart. I loved him dearly, and this is tearing me apart.

Please keep him in your hearts today. Remember him as the tiger he thought he was.
It was an immensely sad ending to the story of this beautiful and extraordinary cat, not yet two years old, who had seen more in his short span than most humans do in a lifetime. But there it was, and Pika's many followers mourned his loss, sharing their thoughts and tributes on social media. Some were angered that Pika, having been lost once during a previous trip, had again been in a situation where he could escape.
However . . .
About six months later, in early February 2014, there was suddenly a very unexpected post: Pikachu had been found alive!
Reactions ranged from joy on the part of most at one end of the spectrum that Pika was alive and well, through bewilderment, to harsh words from some quarters that the account of events the previous year had not been truthful. A little later the Jackson Hole News & Guide reported on their reunion, and the following is an extract (full article in the links below):
Grand Teton National Park rangers and other officials Brady contacted said survival was unlikely. 'He's probably dead,' Brady said everyone told him. 'I was convinced.' So on August 4 Brady wrote in a Facebook post that he 'found his lifeless body.' That wasn't true, but Brady said he needed closure, and he thought his followers did, too.

'I told everybody on the Internet that I found his body because that would give them closure,' Brady said. 'If I told them that I stopped looking, they would have said, "You're abandoning him." When six or seven different professionals say there's a high likelihood he's dead ... on the way here we saw a bald eagle that could have easily taken a cat. What they were saying made sense. No matter what I was going to do I was going to get burned at the stake by somebody.'
No one knows where Pika had been or how he'd survived, but in Jackson Hole, Wyoming at the start of February Casey Stout had spotted a cat outside her home, and as it was cold she called to it to see if it would come inside. It did so and was very hungry. The following day she took the cat to the Teton County Animal Shelter where he was checked over and found to be healthy, if a little thin. He was also scanned for a microchip, there was one, and this led to Ted receiving a call that Pika had been found. A few days later he flew to Jackson for the reunion.
Afterwards
In the 6-month period after being persuaded that continuing the search for Pika was futile, Ted had moved to Austin, Texas (accompanied by a new feline friend, a bobtailed all-black named Boba Fett; we haven't seen any further references to Boba since). While in Jackson Hole he told the News & Guide he would return to Austin to introduce Pika to his roommates and would continue to walk him with a harness, but said he would 'keep him close' and wasn't sure if he could allow him to resume the freedom he'd enjoyed previously.
In May/June of 2014 a few more images of Pika and a short video clip were posted, and it seemed he and Ted were still in Austin.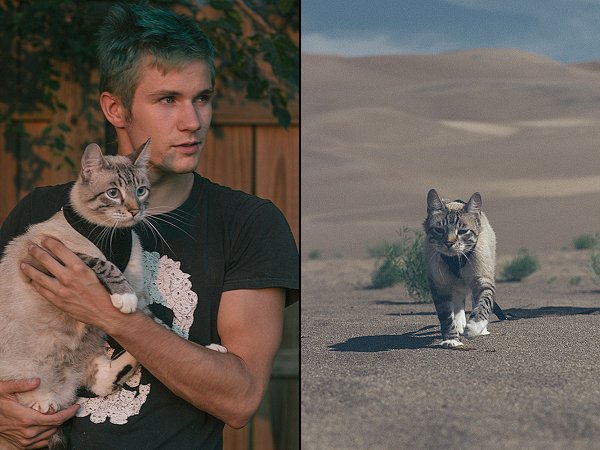 Links
Ted posted online a large number of video clips and superb images of Pika and himself during the trips, a selection of which have been reproduced here at a reduced size. The following are the main places to find these and many others, including links to a few selected clips.
Traveling Kitty at Tumblr
The main site here includes many good images although, depending on connection, pages from around the time of the first trip in particular could be slow to load. If this affects you, try instead the Flickr collection, Instagram/Webstagram, or the photos section of the Travelling Kitty Facebook page noted below, where many of the images also appeared.
Instagram (Web.stagram)
The Traveling Kitty
YouTube
• Pika enjoying a dip in the water (see also image above) at Elephant Butte Lake, New Mexico.
• Train Tracks: unusually and dramatically filmed with an 'epic' soundtrack.
• Interesting question and answer session with Ted, with Pika having a play at the end.
All clips uploaded can be browsed from Ted's YouTube channel page: most are of Pika and himself while travelling, though not all.
Facebook
Travelling Kitty
Ted's page
Flickr photo collection
Ted's also on Twitter: Traveler Kitty from about August 2012 (previously this account).
Jackson Hole News & Guide, Feb 2014: The cat came back.
---