Left-click thumbnails for enlargements (JavaScript should be enabled),
but please allow all images to load before doing so, or some may not display
(if this happens, use Refresh from your toolbar to reload the page)
Rastus finds a soulmate

Rastus was a jet-black, Bombay-cross cat (although one source described him as Burmese), born in Canada. Max Corkill, a panel-beater by trade and a keen car and bike restorer and bike customiser, had worked in the Vancouver, BC area of Canada for many years; he and Rastus met each other in 1989 at a swap meet. A young girl asked him to look after the kitten while she went to look at something, but she never returned. Corkill took him home, advertised in the local paper and on radio stations, but when there were no replies he decided to keep the cat. The two were soon to become inseparable. On finding Rastus one day a few weeks later asleep on one of the bikes in his workshop, he started it up to see whether the cat would take fright and jump off — but he didn't. So Max took the bike, with cat, out for a slow ride around, and Rastus loved it, leaning forward with his forepaws on the handlebars and back paws on the petrol tank.
The biking begins
From then on, whenever Max rode, so did Rastus. A leather cover was made to fit over the tank of whichever bike they were using — Rastus wasn't fussy — for comfort and to give a better grip, and before long he also had a specially made little helmet and pair of goggles. He sported a red-spotted bandana round his neck in authentic biker fashion. In North America alone he was said to have covered some 75,000 miles in all (120,000 km) cruising around with Max. For longer journeys, instead of his customary position leaning into the wind on the petrol tank, Rastus would ride in a specially-made zipped pouch mounted on the tank in front of Max (shown below, inner right), with just his head peeping out. The BMW's tank sometimes became very hot, but with Rastus' comfort always a priority Max's design incorporated venting which allowed air to flow over the tank in space beneath the bag.
A change of scene — and charity work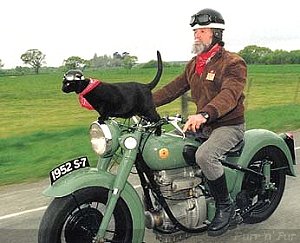 In 1994, after his long stay in Canada, Corkill returned to New Plymouth in his native New Zealand to be near his elderly mother. Of course Rastus went too, although first he had to spend six months in quarantine in Hawaii, which he didn't enjoy and Max said seemed 'very long'. Once he was cleared, the pair devoted time to raising money for animal charities. Max formed a company to market souvenirs such as T-shirts, posters and badges (the latter sold out). They even had a joint cheque account, with Rastus' signature being his pawprint, also used on some of the merchandise.
The duo visited schools to tell children about the importance of caring for pets; they attended various functions; they starred in a prize-winning television advert for the Bell Tea Company. 'The cat was just like a person,' said Bell CEO John Mahoney. 'He used to come into the offices here and make himself at home. He would drink milky tea out of a cup (no sugar), and would get quite testy if it was taken away before he had finished.' There was a thriving Rastus fan club, and the pair became a familiar sight on the roads around Taranaki and New Plymouth, often on Max's classic 1952 Sunbeam (above).

At Christmastime each year Max would put on a Santa outfit and disguise a bike as a sleigh, while Rastus sported a special helmet with little imitation reindeer antlers attached (outer right). They would take part in a Toy Run, organised by a local bikers' group who collected toys along the way for disadvantaged children. In some ways the cat was said to behave more like a dog, obeying Max's commands and 'growling' replies, rather than meowing.
Tragedy and tributes


Tragedy struck on the morning of 20 January 1998, when they were riding Max's customised black BMW, in company with his partner Gaynor Martin. Their bike collided head on with a car coming round a bend on the wrong side of the road; all three died instantly. Rastus had been in his pouch on the tank. The 31-year-old car driver turned out to be drunk, and was charged by police with two counts of manslaughter as well as driving offences.
Their friend Pastor Wally Aish took the funeral service for Max and Rastus on 23 January in New Plymouth. An amazing crowd of over a thousand fellow bikers came to pay their respects and take part in the funeral procession (above left). The two pals' helmets were placed side by side on the coffin they shared (above right), and they were cremated together, as Max had wished. Their ashes were scattered by Max's eldest son at a ceremony on Mount Egmont, a mountain they both loved and that Rastus had been the only cat to climb. There's a tribute site for Max, Gaynor and Rastus; and at the scene of the accident three white crosses were erected at the roadside, the centre and smallest one for Rastus having a black wooden cat attached to it, with a red bandana.
A series of books about Rastus was written for children by New Zealand author Carolyn Ann Aish, as well as a summary book about the lives of the motorcycling duo and information about Max's bikes. In 2012 another book was published, Max and his Marvellous Motorcycling Moggy by Elizabeth Krammer, published by RSVP Publishing of New Zealand, ISBN 978-0-9876587-3-9. Although only a small softback volume it's packed full of information about Max and Rastus and the busy lives they led, and has a number of photographs we hadn't seen before. Highly recommended — and a donation of a dollar is made to the NZSPCA for every copy sold.
With acknowledgements to Max and Rastus: The Road they Travelled, by Max's nephew Logan Sutton, self-published by him in 1998; ISBN 0-473-05544-9. Warm thanks also to Elizabeth Krammer for permission to use images from her book.
An image by travelling-light at Flickr shows Max and Rastus, surrounded by children, during what may have been one of their school visits.
---