Cats' Adventures & Travels 11
Cooper the
Photographer Cat

Seattle
Left-click thumbnails for enlargements (JavaScript should be enabled),
but please allow all images to load before doing so, or some may not display
(if this happens, use Refresh from your toolbar to reload the page)

Cooper, of Seattle, in Washington state in the US, is a cat with a mission: he takes photographs. His owners, film-makers Michael and Deirdre Cross, wanted to find out what he got up to all day in his wanderings around the neighbourhood while they were at work; so they came up with the idea of fitting him with a special small, lightweight digital camera on his collar. He has worn it on one day each week for the past couple of years or so; it is set to take a picture automatically every two minutes, and is encased in plastic to protect it from the weather. Mounted on a special harness, there is no sign that the camera bothers Cooper at all and he is said to 'handle it like a pro'.

Although naturally there have been a lot of 'duds', with thousands of out-of-focus, dark or meaningless shots, on the whole the results from the 200 to 400 images a day have been amazing — people's gardens (yards), busy streets, scenery — and on at least one occasion the cat seems to have spent a long time bird-watching! There have been some spectacular successes, enough to produce several Flickr pages; also included is a superb video of Cooper on a typical day: see A Day in the Life.
The Crosses set up a 'cat-cam slide show' that neighbours watching it thoroughly enjoyed as they recognised their own houses and gardens from Cooper's unique perspective, six inches (15 cm) above the ground. In February-March 2009 some of his best shots were exhibited at a local art gallery; his work has also been seen in London and of course on the internet. He had a spot on Cats 101, an Animal Planet series on American TV, and in early 2011 on the same channel, Must Love Cats: Cat-tographer. Some of Cooper's efforts are for sale, and part of the proceeds go to benefit PAWS, an animal-welfare society in Seattle. From September 2009 until April 2010 Cooper's photos were on display at the Nature Museum in Chicago.
Results from his photos seem to show that Cooper, a former stray who was four in September 2009, doesn't seem to meet feline friends. He gained one important benefit from his 'work': an infra-red device on his collar that opens his cat door and allows him — and only him — to get into his home. It had become obvious from early photos that he was spending hours outside the door waiting to be let in while his owners were out. Now he doesn't have to sit out in the rain. Usually, say the Crosses, he is home 'at a reasonable hour'.

One day in the middle of winter 2008/9 Cooper returned home with no camera, which had apparently fallen out of its case. This was a disaster! A replacement was quickly provided by the original suppliers and the feline pro was back in business. Some three months later, in the spring, a neighbour turned up with the missing device, which he had found in his garden. It had survived the rigours of a Seattle winter, and although unfortunately none of the photos had also survived, it was repaired and put back into use. It's preferred to the newer one as it has a shallower depth of field.
Cooper is naturally on Facebook, and also has his own blogspot, Cooper: Photographer Cat, with news, links, images, and archive material going back to 2008.
Since the end of 2009 Cooper has had his own video camera, which he uses occasionally! View his CatCam films from his YouTube page, where there's also another great short video of Cooper on a day's shooting, called On Location. And now there is a full-colour book of the best of Cooper's work, under the title Cat Cam. It was released in late October 2010; see a short promotional video.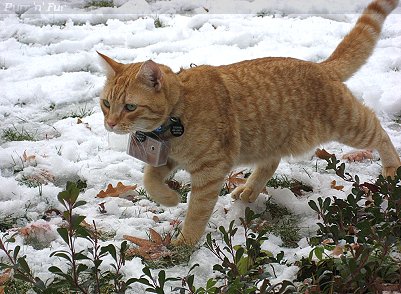 ---