Cats' Adventures & Travels 5
Mishka, the Kosovo Cat
Mishka was a tortoiseshell cat that lived in the city of Pristina, in Kosovo in the former Yugoslavia, with architect Bashkim and his wife Olsa. She had turned up outside their apartment building one day some six years earlier, cold, wet and hungry, and they had taken her in; she seemed quite content to be an indoor cat and to watch the world go by from the window.
In the closing years of the twentieth century war came to the Balkans, and to Pristina, which suffered severe damage from bombing. Life became ever more difficult for Bashkim and Olsa, who were ethnic Albanians; but worse was to come. One night came the knock on the door from the Serbian police, telling them they had one hour to leave before being thrown out of their home. 'Ethnic cleansing' was under way.
Mishka's adventure begins
They decided the only thing they could do was to make the journey of 500 miles (800 km) or so over the mountains to Macedonia, where there was an Albanian refugee camp, and there might be the chance of resettlement to another country. They hastily gathered a few precious possessions they could carry — and Mishka, whom Olsa would not hear of leaving behind, despite Bashkim's protests. The cat went into a small canvas bag with a zip, leaving just enough room for her head to poke out. Amazingly, one of their Serbian neighbours, who had heard what had happened, volunteered to drive them in his small car to the main road on the outskirts of town to start their journey; in spite of great risk to himself if his actions were found out. He said he did not want them to leave thinking all Serbs were bad people.
The journey was long and arduous, taking fifteen days altogether, although thousands of other Albanians were also on the same road and they were able to get occasional lifts. After a day or two it became clear Mishka was not going to run off, and so they were able to let her walk alongside them until she became tired. She seemed to think it was quite an adventure, and would run off into the grass to catch mice and insects to eat, so they didn't have to worry too much about feeding her from their scarce rations.
A flight to Canada
The refugee camp was crowded and unsanitary. Mishka spent most of the time in her canvas bag, venturing out only when she had to and it was safe to do so. But there were immigration agents there from different countries that had agreed to take Albanian refugees; after a week at the camp Bashkim and Olsa had decided they would like to get to Canada. They were accepted, and a flight was to leave the following day — but a cat would certainly not be allowed, and they had to find a way to get her through the various checks.
The first hurdle came on the bus to the airport, when she was almost discovered by the driver who would have thrown them off the bus; but, with the help of a young boy, disaster was averted. Of course, before boarding the plane bags had to go through an X-ray machine; and a rather surprised security operative saw the body of a cat among the couple's personal possessions inside. Fortunately he must have been a cat lover, and when he heard they were from Pristina he handed them the bag and wished them luck. They boarded their flight, which carried a total of 246 refugees.
The immigrant cat
Exhausted, Mishka slept for most of the thirteen-hour flight and hardly moved, safe in her canvas sanctuary. The plane landed at Greenwood, Nova Scotia, where a former military base had been adapted to become a receiving depot and hospital for the nearly 5,000 Albanians that Canada had agreed to take in. Hundreds of personnel and volunteers were waiting to welcome the people from the flight and to attend to their diverse needs. A medical check-up was required, and during this the canvas bag began to move about and wriggle — and out popped Mishka's head! She was impatient, hungry and needed a litter tray. The secret could be kept no longer.
An immigration officer was called, who didn't quite know how to deal with this unprecedented situation; meanwhile word spread that someone had brought a cat from Kosovo, and people gathered round to stroke and pet her. Eventually it was agreed that 'refugee #247' could stay, subject to health checks and immunisation. A collection was made to pay for her vet's fees — and so Mishka became the first, and only, cat to receive a Canadian immigration card! She became quite celebrated as 'the cat from Kosovo'.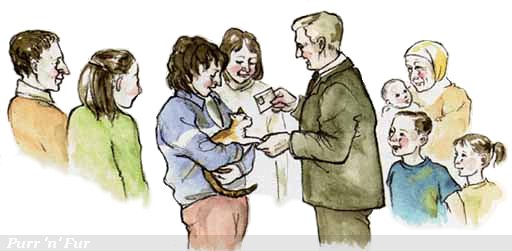 The story of Mishka is based on a real-life one and is charmingly told in the book The Cat from Kosovo, by Mary Jane Hampton, with delightful illustrations by Tamara Heikalo. It is published by Nimbus Publishing of Halifax, Nova Scotia, Canada.
---