Emily: another 'container cat'
Appleton, Wisconsin
Left-click thumbnails for enlargements (JavaScript should be enabled),
but please allow all images to load before doing so, or some may not display
(if this happens, use Refresh from your toolbar to reload the page)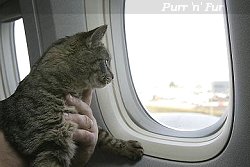 One-year-old Emily disappeared from her home in Appleton, Wisconsin, USA at the end of September 2005. On 24 October she turned up in Nancy, France, in a container of paper bales, having wandered into the container at the distribution centre of a paper company near to her home. The bales were taken by truck to Chicago before being shipped by sea to Belgium, and Emily emerged when the container was delivered to its final destination — she was frightened, thirsty and a little thinner, but otherwise well. From information on Emily's collar tags, employees at the Raflatac laminating company were able to place a call to her vet, who in turn notified her owners. The McElhiney family had searched extensively for Emily after she disappeared, but as time went by they could only hope she was safe and being well looked after somewhere else.
From accounts on the internet it wasn't clear where Emily stayed in France, but apparently she remained there for a couple of months which included some time in quarantine.


In December Continental Airlines offered her a seat (in business class, no less!) to return to the United States with a personal escort. She was flown first to Newark, NJ and then on a connecting flight to Milwaukee, the airport nearest her home. According to an airline steward on her international flight, Emily didn't care for the salmon fillet that Continental offered, preferring her French cat food. This story prompted a large number of comments and replies on a French blog site, including one saying that the author had sampled the food served on Continental Airlines and thought that he too might have preferred the cat food!
Amid much media interest there was a reunion at the airport with members of her family (above), and then Emily returned home to rejoin her two feline companions, Tori and Ringo. Lesley McElhiney commented, "She seems a little quieter, maybe a little wiser."
Links
BBC News: Stowaway cat flies home in style with a video of Emily's homecoming
People.com: Cat-Cidental Tourist
MSNBC: Stowaway cat flies business class back home, including video
The tale of another 'container cat' can be found as the final item here.
You may also like to read the story of possibly the most well-known 'accidental traveller': see The Voyage of Colin's Cat.
---