Tinker, aka 'Tinks'
20 July 2007 — 7 August 2011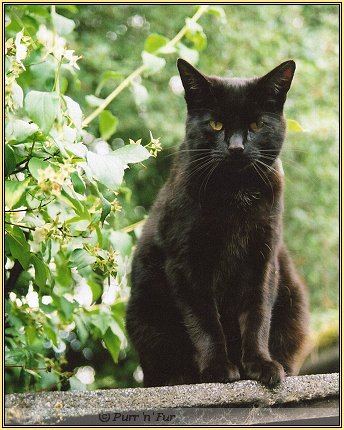 Wherever a cat sits, there shall happiness be first. —Stanley Spencer
There are few things in life more heart-warming than to be welcomed by a cat. —Tay Hohoff

Left-click thumbnails for enlargements (JavaScript should be enabled)
Following the loss of Pushkin early in 2006, it was some time before I decided to take on another cat, but eventually I thought of taking on a pair of kittens — so on Guy Fawkes' Day (November 5th) of 2007, brothers Tinker and Timmie came to join the household at about 12 weeks old. Soon they were 'into' everything, as kittens are; Maggie and Midge, the ladies of the house, were not mightily impressed, but cats are generally good at being able to live together and things settled down.

Once I felt they knew where they lived and were allowed outside, a whole new world opened up for them, and one of the first things they did was climb to the top of the fir trees in the garden. These are not huge, but high enough off the ground for me to be apprehensive. I needn't have worried; the kits were sure-footed and, importantly, began to learn to come when I called them.

They grew into large and very solid cats of considerable weight, with beautiful glossy black coats. Tim has a white patch on his chest, while Tinks had just a few white hairs but was otherwise completely black. They were not especially close, as brothers can be, but would usually eat together and generally got on well, although there would be the occasional 'spat'. I was very proud of the two of them and it was quite special to have them come to greet me, tails held high, when I came home, as the 'girls' quite often seemed to be off somewhere doing their own thing.

Of the two, Tim seems to be a bit of a clown, and as long as he has food (plenty!) and a place to sleep, and can go out when he wants, he's happy. Tinker always seemed a bit more serious, a bit more of a 'thinker', perhaps, but he was very affectionate and did not mind at all being picked up and made a fuss of. That would start off a deep, rumbling purr, and he would have a look of sheer contentment on his face.
We had one misfortune when, not realising he was there, I closed the back door on the very tip of his tail. In order to allow it to heal after a couple of stitches, Tinks was given one of those 'Elizabethan collars' round his neck. He hated it with a vengeance and soon had it off! After this had happened two or three times I took it off, but of course that meant he could pull out the stitches — eventually he had to go back to the vet to have the very end of his tail amputated. This time he stayed at the vet's for ten days or more — with a collar — until the vet was satisfied the tail was healing well and licking wouldn't damage it. Eventually he was able to come home and begin the long process of growing the fur back on the part that had been shaved.

The tail had just about grown back to its full glory when tragedy struck. One Monday morning in early August 2011 Tinker did not come in for his breakfast, and that was unheard of. I feared the worst, and my fears were confirmed next day, when the vet rang to say his body had been handed in. It was virtually a rerun of what happened with Rags several years earlier; he must have crossed the main road — I did not know he ventured that far — and again some kind person found him, and because he was microchipped I was able to be contacted.
It was a devastating blow. I still miss a wonderful friend and companion, a truly beautiful animal who had become something of a soul mate. He is buried in the garden alongside those who have gone before.

---
Close this window to return to where you were,
or visit the Purr 'n' Fur home page
---